01.12.2017 | Research article | Ausgabe 1/2017 Open Access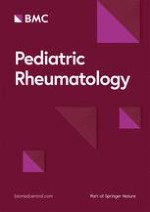 Observational study of Interleukin-21 (IL-21) does not distinguish Kawasaki disease from other causes of fever in children
Zeitschrift:
Autoren:

Rachel Engelberg, Meghan Martin, Brian H. Wrotniak, Mark Daniel Hicar
Wichtige Hinweise
Electronic supplementary material
The online version of this article (doi:
10.​1186/​s12969-017-0163-3
) contains supplementary material, which is available to authorized users.
Abbreviations
AST
Aspartate aminotransferase
ESR
Erythrocyte sedimentation rate
IVIG
Intravenous immunoglobulin
PBMC
Peripheral blood mononuclear cell
Background
Kawasaki disease (KD) is the leading cause of acquired heart disease in children [
1
,
2
]. Nearly one quarter of untreated KD children will go on to develop coronary aneurysms. The classic KD presentation is a systemic vasculitis with minimum of 5 days of fever and 4 of the 5 following clinical criteria; conjunctivitis, rash, distal extremity swelling, oral mucous membrane inflammation, and non-generalized lymphadenopathy [
3
]. Both incomplete forms, presenting with less than 4 criteria, and atypical variants, presenting classically but with an additional clinical finding not typically seen with KD, have a similar coronary arteritis propensity to classic KD presentations [
4
]. Treatment with intravenous immunoglobulin (IVIG) given prior to the 10
th
day of illness helps to prevent the development of coronary aneurysms [
5
].
Several studies have supported a role for B cell responses in the pathogenesis of KD. Trans-placental passage of maternal antibodies is thought to be protective and explain the paucity of cases in infancy [
6
]. Recent studies support a protective role of breastfeeding [
7
]. Genome-wide genetic marker association studies show that specific polymorphisms in CD40 and in the B lymphoid tyrosine kinase genes associate with KD [
8
,
9
]. IgA+ plasma cells are shown within inflammatory infiltrates in the vessel walls of aneurysms from KD children [
10
,
11
], and depleted in the peripheral blood compartment [
12
]. These IgA+ cell rich aneurysmal infiltrates are proposed to be specific responses to an infiltrating pathogen.
IL-21, produced mainly by T cells and Natural Killer cells [
13
,
14
], has recently been shown to be a specific marker in KD in a Korean cohort of children [
15
]. In this study, IL-21 was elevated compared to a control group of children with prolonged fevers thought to be due to mononucleosis. This finding further supports a role of B cell activation in KD, since IL-21 modulates immunoglobulin isotype switching and is involved in the differentiation of both naïve and memory B cells into mature plasma cells [
16
]. Only one other published study, focusing on the chemokine IP-10 (CXCL10), has included IL-21 levels in there published data [
17
]. Unfortunately, the cytokine bead array used was comparably much less sensitive than the published ELISA-based data [
15
], making direct comparison difficult.
We wished to assess if IL-21 could be used as a marker of KD in a North American cohort of febrile children to distinguish KD from other febrile presentations. We recruited 12 KD and 60 control subjects between 9 months and six years of age through an urban Emergency Department. Within this manuscript we detail our results that show that IL-21 levels were non-specifically elevated across all febrile children, irrespective of KD diagnosis.
Methods
Enrollment
This is a single site observational (unmatched case–control) study of children with suspected KD compared to other febrile children. Subjects consisted of children aged nine months to six years of age who presented to the Emergency Department of Women and Children's Hospital of Buffalo (WCHOB) between March 2014 and March 2015. Patients in this age group with a planned blood draw as part of their emergency room evaluation were eligible if they had fever (>100.9 °F or 38.2 °C) at home (within 24 h of seeking care) or confirmed in the emergency room and at least one of the following symptoms: rash, mucous membrane changes, extremity changes, conjunctivitis or a single isolated enlarged lymph node. Patients were also eligible for enrollment if they were sent to the emergency room with the specific concern for Kawasaki disease. After parental informed consent was obtained, during clinical blood collection, an additional 5–10 ml of blood was collected. This study successfully enrolled 72 subjects. University at Buffalo's Human Research Protection Program institutional review board approval was obtained prior to the initiation of the study and has been modified and renewed on a yearly basis (MODCR00000185).
Notable exclusions to prevent effects of excessive blood draws included prior study enrollment within two months, chronic or active blood borne infection such as HIV, HBV or HCV, chronic anemia, excessive blood loss or previous multiple blood draws within 8 weeks prior to study enrollment. Symptoms occurring at ED presentation, vital signs, and demographic information were recorded on the study data collection form. Access to the medical record was included in the consent to allow for review of individual medical records to assign enrolled subjects as KD or controls. Assignment to the KD group required the following: admittion to the hospital, an infectious disease consultant agreed with the diagnosis of KD, and the subject having received immunoglobulin therapy. Notably, there were no controversies in assignment between the primary team and infectious disease consultant, no control subject received IVIG, and most control subjects were not admitted.
ELISA tests
During peripheral blood mononuclear cell (PBMC) isolation for a separate study, diluted plasma (roughly 40% with PBS) was withdrawn and stored in a −80 °C freezer. The Human IL-21 ELISA kit (Ready-SET-Go! Kit, Affymetrix, San Diego) with a published sensitivity range of 8–1000 pg/mL was used in this study. The manufacturer's protocol was followed and is briefly summarized. Anti-Human IL-21 capture antibody was bound to 96-well ELISA plates overnight (o/n) at 4 °C. IL-21 coated plates were washed three times (3×) then blocked (1 h, room temperature (RT)), then washed once. Human IL-21 internal standards (ranging from 15.625 pg/mL to 800 pg/mL) and diluted plasma samples were layered on the plate in duplicate and incubated (o/n, 4 °C). After washing (5×) plates were incubated (1 h, RT) with anti-Human IL-21 Biotin detection antibody. Plates were washed (5×) and incubated (30 min, RT) with Avidin-HRP enzyme. After washing (7×), plates were developed with TMB solution with 2N H2SO4 acid stop and read at 450 nm in a spectrophotometer.
Plasma was initially diluted with PBS during PBMC isolation (generally roughly 30–40% of full concentrated plasma). Raw ELISA data was converted to final concentrated plasma levels by accounting for this predilution. Measured raw IL-21 levels were divided by plasma dilution (plasma dilution = Volume Blood(1- hematocrit/100)/(Volume blood + Volume PBS added)).
Data analysis
Descriptive characteristics for study subjects were computed. Most variables were positively skewed, and are, therefore, described using medians, 2.5
th
, and 97.5
th
percentiles. Categorical variables were reported as proportions in percentage. Separate Mann-Whitney U tests were used to examine differences between patients with KD and controls for clinical variables (see Additional file
1
: Table S1). Statistical tests were two-tailed with alpha of 0.05. Analyses were conducted with SYSTAT 13 (SYSTAT Software, 2004).
Enrollment survey and chart review was used to define number of symptoms consistent with KD. Spearman rank correlation coefficients (R) of laboratory value versus IL-21 levels and Mann-Whitney U tests comparing IL-21 levels between comparative groups were analyzed and graphed using Prism software (Graphpad, La Jolla, CA).
Results
Discussion
Conclusions
The marked predilection for acquired heart disease in children warrants research into determining the underlying physiology behind this vasculitis, both in terms of improved diagnostics as well as more appropriate treatment for typical, atypical, and incomplete KD. Unfortunately, particularly for the heterogenous populations of North America, IL-21 does not seem to be the answer. Future studies would benefit from larger cohorts, serial evaluation over time, and more extensive proteomic evaluation.
Acknowledgements
The authors would like to thank Frank Carnevale for his assistance, Haiping Qiao for assistance in establishing cohort access and obtaining samples, and Meghan McLaughlin and Hakimuddin Sojar for technical support.
Funding
This work was supported by a grant from the Wildermuth Memorial Foundation, a private funding mechanism supporting research in Pediatrics.
Availability of data and materials
The datasets used and/or analysed during the current study are available from the corresponding author on reasonable request.
Authors' contributions
RA performed assays and contributed to writing manuscript, MM processed samples and contributed to writing manuscript, BW performed statistical analysis, MDH designed study, processed samples and contributed to writing manuscript. All authors read and approved the final manuscript.
Competing interests
The authors declare that they have no competing interests.
Consent for publication
Not applicable.
Ethics approval and consent to participate
IRB approval was obtained with parental consent prior to enrollment (MODCR00000185).
Publisher's Note
Springer Nature remains neutral with regard to jurisdictional claims in published maps and institutional affiliations.
Open Access
This article is distributed under the terms of the Creative Commons Attribution 4.0 International License (
http://​creativecommons.​org/​licenses/​by/​4.​0/​
), which permits unrestricted use, distribution, and reproduction in any medium, provided you give appropriate credit to the original author(s) and the source, provide a link to the Creative Commons license, and indicate if changes were made. The Creative Commons Public Domain Dedication waiver (
http://​creativecommons.​org/​publicdomain/​zero/​1.​0/​
) applies to the data made available in this article, unless otherwise stated.