05.02.2019 | Original Research | Ausgabe 5/2019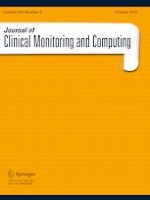 Observational study of newborn infant parasympathetic evaluation as a comfort system in awake patients admitted to a pediatric intensive care unit
Zeitschrift:
Autoren:

Juan Valencia-Ramos, Juan Arnaez, Sara Calvo, Fernando Gomez, Isabel Del Blanco
Wichtige Hinweise
Publisher's Note
Springer Nature remains neutral with regard to jurisdictional claims in published maps and institutional affiliations.
Abstract
To compare the newborn infant parasympathetic evaluation system (NIPE) scores with a validated clinical scale using two different nebulizers in children with bronchiolitis admitted to a PICU. Comfort was evaluated using the COMFORT-behavior scale (CBS) before (T1), during (T2) and after (T3) each nebulization. In order to compare NIPE and CBS values during the whole T1 to T3 period, the variable Dif-CBS was defined as the difference between maximal and minimal CBS scores, and Dif-NIPE as the difference between 75th and 25th percentile NIPE values. Analyses were carried out, firstly for the total of nebulizations and secondly comparing two different nebulization systems: a jet nebulizer (JN) and a nebulizer integrated in high flow nasal cannulas (NHF). 84 nebulizations were recorded on 14 patients with a median [25th–75th percentile] age of 6 months (3.1–9.5). A Dif-CBS of 4 points (2–7), as well as changes in CBS scores between T1 and T2, defined the nebulization as a discomfort stimulus. The NIPE system, represented as the Dif-NIPE, showed a median variation of 9 points (7–10), and was poorly correlated to Dif-CBS [rs 0.162 (P = 0.142)]. Discomfort during nebulization, assessed by CBS was greater with the JN system compared to NHF: 17 (13–22) vs 13 (9–15) (P = 0.001). NIPE monitoring detected no significant differences between both nebulization systems (P = 0.706). NIPE monitoring showed a variation in comfort during nebulization in the patient with bronchiolitis, though correlation with CBS was poor. Further research is required before NIPE can be suggested as a comfort monitoring system for the awake infant.