01.12.2017 | Research article | Ausgabe 1/2017 Open Access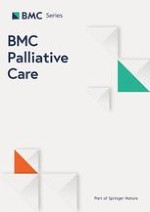 Observational study of patients in Spain with amyotrophic lateral sclerosis: correlations between clinical status, quality of life, and dignity
Zeitschrift:
Autoren:

Yolanda Martínez-Campo, Christian Homedes, Ana Lazaro, Raquel Alarcón, David Campo, Mariona Riera, Raúl Domínguez, Mónica Povedano, Carlos Casasnovas
Abbreviations
ALS
Amyotrophic Lateral Sclerosis
ALSAQ40
Amyotrophic Lateral Sclerosis Assessment Questionnaire
BIPAP
Bi-level positive airway pressure
PEG
Percutaneous endoscopic gastrostomy
UFELA
ALS Unit in the Bellvitge University Hospital
Background
In the first part of this two-step study, we aimed to determine how ALS affects QoL and DoL in comparison with healthy controls. In the second part, we prospectively studied how the clinical progression of ALS affects DoL and QoL. To the best of our knowledge, no study in Spain has explored whether patients from an ALS unit suffer a decline in QoL and DoL, nor the relation of these with functional deterioration due to the disease.
Methods
Study design
We included patients who underwent routine follow-up at our center between December 2015 and April 2016. The ALS unit at our center (UFELA) manages patients with ALS from the Catalonia region, but mainly sees patients from our hospital's immediate catchment area containing approximately 1.3 million people. First, we conducted a cross-sectional observational study of patients with ALS and compared them with 20 healthy controls. These latter were selected from among the authors' relatives (YMC, AL, CH, RA, and DC) to present similar age and sex distributions, and were not excluded if they had non-complicated high blood pressure, dyslipidemia, or diabetes. Second, we performed a three-month prospective observational study with a cohort of patients from the first part of the study, who were being treated and followed up at our center for diagnosed ALS. In total, three questionnaires were administered: the ALSFR, the ALSAQ40, and the PDI.
Inclusion and exclusion criteria
All included patients signed and dated an informed consent form and all had definitive ALS diagnosed according to the El Escorial criteria [
7
]. The exclusion criteria were cognitive impairment and motor neuron diseases other than ALS, including primary lateral sclerosis, progressive muscular atrophy, progressive bulbar palsy, and pseudobulbar palsy.
Assessment tools
Basic demographic and disease-specific data were obtained for each patient, including their sex, current age, age of onset, time from symptom onset to diagnosis, region of onset (spinal upper limbs, spinal lower limbs, bulbar, or respiratory), and the administration of symptomatic treatment (PEG or BPAP). A control group of 20 healthy volunteers was used for comparison. All participants (patients and controls) completed the three study questionnaires at baseline and after 3 months, and their progression was evaluated by the difference in scores.
Statistical analysis
StataCorp Version 13.1 was used for statistical analysis. Percentages (sex, use of PEG or BPAP, clinical onset) and means (age at ALS onset and time for disease evolution) were used for descriptive analysis. Two-sample Student
t
-tests with unequal variances were used to compare the results of functional, QoL, and DoL parameters for the ALS and control groups. A
p
-value of ≤0.05 was taken as indicating statistical significance. In the prospective study, mean scores were calculated for the three questionnaires and the means obtained from the two interviews were compared individually.
Results
Observational study
We evaluated 43 patients with ALS, whose mean age was 60.33 years (Fig.
1a
). Males predominated (53.5%), the mean age at ALS onset was 56.67 years (range, 30–75 years) (Fig.
1b
), and the mean time for disease evolution was 39.16 months (range was between 9 and 124 months) (Fig.
1c
). Nine patients (21%) required PEG, 15 (35%) required BPAP (Fig.
1c
), and 4 required both. Physical status, patient functionality, and QoL were assessed with the ALSFR and ALSAQ40 scales, while dignity was assessed with the PDI scale. All patients responded to all the questionnaires. The median scores obtained on the ALSFR, ALSAQ40, and PDI scales were 30.76 points (range, 12–47), 119.30 points (range, 52–198), and 44.76 points (range, 28–66), respectively.
×
A significantly worse QoL was found in patients who required BPAP or PEG (
p
 = 0.0092 and
P
 = 0.0108, respectively). There were no significant differences in sex by age (
p
 = 0.7658), age of ALS onset (
p
 = 0.6600), clinical onset (
p
 = 0.7059), duration of the disease (
p
 = 0.6181), need for PEG (
p
 = 0.5559) or BIPAP (
p
 = 0.5405), ALSFR (
p
 = 0.9219), QoL (
p
 = 0.5626), or DoL (
p
 = 0.4467). Neither were any significant differences observed with regard to clinical onset and duration of the disease (
p
 = 0.1141), need for BIPAP (
p
 = 0.6527), ALSFR (
p
 = 0.4888), QoL (
p
 = 0.5742), or DoL(
p
 = 0.9753). Unsurprisingly, however, PEG was required more frequently in patients with bulbar/respiratory onset than in those with spinal onset (
p
 = 0.0045). Similarly, no significant differences were found in QoL or DoL by sex (p = 0.5626 and 0.4467, respectively), age of ALS onset (
p
 = 0.3982 and 0.3325), clinical onset (spinal,
p
 = 0.060 and 0.187; bulbar,
p
 = 0.126 and 0.995; respiratory,
p
 = 0.340 and 0.058), or disease duration (
p
 = 0.660 and 0.3982). There were no significant differences observed for PEG or DoL (
p
 = 0.5750).
The average age of the control cohort was 61.9 years old, and males predominated (55%). The mean scores and standard deviations on the ALSAQ40 and PDI differed significantly (both
p
 < 0.001) between the ALS and control cohorts (Fig.
2a and b
).
×
Prospective study
We followed up 23 patients with ALS over 3 months. Most patients responded to both questionnaires, but 2 (8.7%) died from ALS-related respiratory failure before finishing the study. There was a slight female predominance in the cohort (52.2%). The means for age, age of onset, and time for disease evolution were 58.9 years, 54.7 years, and 3.66 years, respectively. Onset was bulbar in 6 patients (26%), spinal in 15 (65.2%), and respiratory in 2 (8.7%). Among those with spinal onset, 11 (47.8%) were affected in the lower limbs first and 4 (17.4%) in the upper limbs first. Ten patients (43.5%) started BPAP and 6 (26%) started PEG over the three-month study period.
Clinical status
Patients' clinical status and functionality, evaluated by means of the ALSFR scale, showed significant worsening from baseline (ALSFR scale
1
) to 3 months (ALSFR scale
2
), with median scores of 30.95 and 27.24 points, respectively (
p
 = 0.0003; Fig.
3a
).
×
Quality of life
The ALSAQ40 scale showed significant worsening from baseline (ALSAQ40 scale
1
) to 3 months (ALSAQ40 scale
2
), with median scores of 124.19 and 131.81 points, respectively (
p
 = 0.0062; Fig.
3b
).
Dignity of life
DoL, evaluated by means of the PDI scale, improved slightly with disease progression, but no significant differences were found between the scores at baseline (PDI scale
1
) and 3 months (PDI scale
2
); the median scores were 48.14 and 45 points, respectively (
p
 = 0.12; Fig.
3c
).
Discussion
Conclusions
ALS is a neurodegenerative disease that clearly affects QoL and dignity. In this pilot study, we identified significant deteriorations in clinical status, functionality, and QoL, but not in DoL, as the disease progressed. It is likely that this preservation of dignity is multifactorial in nature, being closely related to the use of therapies derived from a multidisciplinary approach to the disease. We believe that DoL, not solely QoL, could be an important target in the management of ALS.
Funding
This research received no specific grant from any funding agency in the public, commercial, or not-for-profit sectors.
Availability of data and materials
The datasets used and/or analysed during the current study are available from the corresponding author on reasonable request.
Ethics approval and consent to participate
The study was approved by the Bellvitge University Hospital Ethics Committee.
Consent for publication
All patients signed the informed consent form and agreed to participate.
Competing interests
The authors declare that they have no competing interests.
Publisher's Note
Springer Nature remains neutral with regard to jurisdictional claims in published maps and institutional affiliations.
Open Access
This article is distributed under the terms of the Creative Commons Attribution 4.0 International License (
http://​creativecommons.​org/​licenses/​by/​4.​0/​
), which permits unrestricted use, distribution, and reproduction in any medium, provided you give appropriate credit to the original author(s) and the source, provide a link to the Creative Commons license, and indicate if changes were made. The Creative Commons Public Domain Dedication waiver (
http://​creativecommons.​org/​publicdomain/​zero/​1.​0/​
) applies to the data made available in this article, unless otherwise stated.