01.03.2012 | Original Paper | Ausgabe 3/2012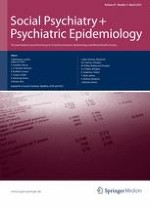 Obsessive–compulsive disorder in the community: 12-month prevalence, comorbidity and impairment
Zeitschrift:
Autoren:

Yuki Adam, Gunther Meinlschmidt, Andrew T. Gloster, Roselind Lieb
Abstract
Background
Although subthreshold conditions are associated with impairment in numerous disorders, research on obsessive–compulsive disorder (OCD) below the diagnostic threshold of DSM-IV in the general population is limited.
Purpose
To estimate the DSM-IV 12-month prevalence, comorbidity and impairment of OCD, subthreshold OCD (i.e., fulfilling some but not all core DSM-IV criteria), and obsessive–compulsive symptoms (OCS) (i.e., endorsement of OCS without fulfilling any core DSM-IV criteria) in a general population sample.
Methods
Data from the German National Health Interview and Examination Survey–Mental Health Supplement (
N
= 4181, age 18–65 years), based on the standardized diagnostic Munich Composite International Diagnostic Interview.
Results
The 12-month prevalence of OCD was 0.7%, subthreshold OCD was 4.5%, and OCS was 8.3%. Subjects in all three groups showed higher comorbidity (odds ratios [ORs] ≥ 3.3), compared to those without OCS. The OCD, subthreshold OCD and OCS were all associated with increased odds of substance abuse/dependence-, mood-, anxiety- and somatoform disorders, with especially strong associations with possible psychotic disorder (ORs ≥ 4.1) and bipolar disorders (ORs ≥ 4.7). Participants in all three groups showed higher impairment (ORs ≥ 3.1) and health-care utilization (ORs ≥ 2.4), compared to those without OCS, even after controlling for covariates.
Conclusions
Individuals with subthreshold OCD and OCS, not currently captured by DSM-IV OCD criteria, nevertheless show substantial comorbidity, impairment and health-care utilization. This should be taken into account in future conceptualization and classification of OCD and clinical care.