29.01.2019 | Sleep Breathing Physiology and Disorders • Original Article | Ausgabe 4/2019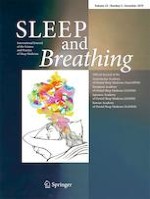 Obstructive sleep apnea phenotypes in men based on characteristics of respiratory events during polysomnography
Zeitschrift:
Autoren:

Hideaki Nakayama, Mina Kobayashi, Satoru Tsuiki, Mariko Yanagihara, Yuichi Inoue
Wichtige Hinweise
Electronic supplementary material
Comments
Subphenotyping of sleep-disordered breathing is a first step into the refinement of the spectrum of sleep disorders. Given the spate of recent publications demonstrating poor efficacy of gold standard therapies and previous research revealing different aspects of sleep-disordered breathing affecting outcomes (e.g., Dr. Punjabi's work within the SHHS showing 4% desaturations associating with cardiovascular risks), new means of delineating the obvious differences we see in patients will help us to not only move away from the coarse estimate of sleep-disordered breathing encompassed by the AHI, but will also enable more personalized therapeutic selections and accurate monitoring of successes and failures. While other experts in the field have demonstrated similar successes at subphenotyping with clustering on symptoms and/or comorbidities, objective data derived from the polysomnogram holds the promise of more valid and reliable sleep metrics that can be explored in the full host of sleep disorders contained within the ICSD-3/DSM-V.
Logan Schneider
CA, USA
Publisher's note
Springer Nature remains neutral with regard to jurisdictional claims in published maps and institutional affiliations.
Abstract
Purpose
The upper airway (UA) anatomical collapsibility, UA muscle responsiveness, breathing control, and/or arousability are important contributing factors for obstructive sleep apnea (OSA). Differences in clinical manifestations of OSA are believed to reflect interactions among these factors. We aimed to classify OSA patients into subgroups based on polysomnographic (PSG) variables using cluster analysis and assess each subgroup's characteristics.
Methods
Men with moderate or severe OSA and without any concomitant heart or psychosomatic disease were recruited. A hierarchical cluster analysis was performed using variables including fraction of apnea, respiratory event duration, minimum oxygen saturation, arousal rate before termination, and frequency of respiratory events in the supine position. The impact of sleep stages or body position on PSG variables was also evaluated in each cluster.
Results
A total of 210 men (mean age, 50.0 years, mean body mass index, 27.4 kg/m2) were studied. The three subgroups that emerged from the analysis were defined as follows: cluster 1 (high fraction of apnea and severe desaturation (20%)), cluster 2 (high fraction of apnea and long event duration (31%)), and cluster 3 (low fraction of apnea (49%)). There were differences in the body mass index and apnea type between the three clusters. Sleep stages and/or body position affected PSG variables in each cluster.
Conclusions
Patients with OSA could be divided into three distinct subgroups based on PSG variables. This clustering may be used for assessing the pathophysiology of OSA to tailor individual treatment other than continuous positive airway pressure therapy.