01.12.2017 | Research article | Ausgabe 1/2017 Open Access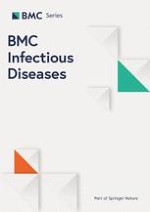 Ocular bacterial infections at Quiha Ophthalmic Hospital, Northern Ethiopia: an evaluation according to the risk factors and the antimicrobial susceptibility of bacterial isolates
Zeitschrift:
Autoren:

Mebrahtu Teweldemedhin, Muthupandian Saravanan, Araya Gebreyesus, Dawit Gebreegziabiher
Abstract
Background
External and intraocular infections can lead to visual impairments, which is a major public health problem. Bacteria are the most frequent pathogens affecting ocular structures; the increasing rate of antimicrobial drug resistance is a worldwide concern. The aim of this study was to determine the occurrence of bacteria in ocular infections, their antimicrobial susceptibility patterns, and risk factors in bacterial ocular infection.
Methods
A hospital based cross-sectional study was conducted from September 2015 to December 2015 at Quiha Ophthalmic Hospital, Tigray, northern Ethiopia. Ocular specimens from blepharitis, blepharoconjunctivitis, conjunctivitis, keratitis, endophthalmitis, periorbital cellulitis and dacrocystitis were collected from 270 individuals with suspected ocular infection. Data on sociodemographic and risk factors were also collected using a structured questionnaire. Data analysis was performed using SPSS version 21 and 0.05 with a corresponding 95% confidence interval (CI) was considered statistically significant.
Results
Among 270 study subjects, 180 (66.7%) were culture positive for different bacterial isolates. The predominant bacterial isolates were
Staphylococcus aureus
(40, 22.2%), coagulase negative staphylococci (31, 17.2%) and
Pseudomonas aeruginosa
(21, 11.7%). Ocular surface disease, ocular trauma, hospitalization and cosmetic application practices were significantly associated with the occurrence of bacterial infection. Concerning antimicrobial susceptibility, most isolates were susceptible to amikacin (137, 93.2%), gentamicin (131, 89.1%) and ciprofloxacin (141, 89.2%). Overall, 40 (22.5%), 34 (19.1%) and 62 (34.8%) isolates were resistant to one, two, and three or more antimicrobials, respectively.
Conclusion
Bacteria were isolated from the majority of the study subjects. More than half of the bacterial isolates were resistant at least to one drug and a significant rate of multidrug resistance was detected. Therefore, identification of the etiologic agent and antimicrobial susceptibility testing should be practiced to select the appropriate antimicrobial agent to treat eye infections and prevent the emergence of drug resistant bacteria.