01.12.2019 | Case report | Ausgabe 1/2019 Open Access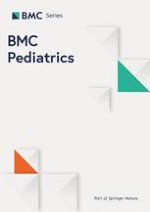 Ocular characteristics in a variant microcephalic primordial dwarfism type II
Zeitschrift:
Autoren:

Wan-Ju Chen, Fu-Chin Huang, Min-Hsiu Shih
Wichtige Hinweise
The authors have not published or submitted any related papers from the same study
Publisher's Note
Springer Nature remains neutral with regard to jurisdictional claims in published maps and institutional affiliations.
Abstract
Background
Microcephalic osteodysplastic primordial dwarfism, type II (MOPD II) is a rare disease that is assumed to be caused by a pericentrin (PCNT) gene mutation. Clinical manifestations have been reported in pediatrics and neurology; however, only a few ocular findings have been documented.
Case presentation
We present three unrelated cases of MOPD II with similar facial features and short stature. Unlike the cases described in the literature, all subjects had normal birth weight and height but their growth was retarded thereafter. In addition to delayed milestones, they have a broad forehead, maxillary protrusion, long peaked nose, high nasal bridge, low-set large ears, extreme reromicrogenia, and normal-sized teeth. These three patients had similar ocular manifestations with the short axial length associated with high hyperopia more than + 9 diopters (D) and macular scarring. The oldest subject was a 20 year-old male without neurological symptoms. One female subject had developed alopecia during the previous 2 years. The other female subject had moyamoya disease, but a genetic study revealed a normal PCNT gene.
Conclusion
This is the first report of MOPD II focusing on ocular findings, suggesting that macular dystrophy and high hyperopia are the common ocular characteristics of MOPD II. Prompt referral to an ophthalmologist is essential. Although refractive amblyopia can be treated with optical correction, visual prognosis may be poor due to maculopathy.