01.12.2016 | Case report | Ausgabe 1/2016 Open Access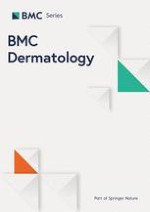 Odonto-onycho-dermal dysplasia in a patient homozygous for a
WNT10A

nonsense mutation and mild manifestations of ectodermal dysplasia in carriers of the mutation
Zeitschrift:
Autoren:

Anne Bruun Krøigård, Ole Clemmensen, Hans Gjørup, Jens Michael Hertz, Anette Bygum
Wichtige Hinweise
Competing interests
The authors declare that they have no competing interests.
Authors' contributions
AB was the treating physician and performed the clinical evaluation. HG performed the dental evaluation and description. OC was the pathologist on the case and performed the histopathological examination of skin biopsies. ABK and JMH were responsible for genetic testing and genetic counselling. ABK wrote the manuscript. All authors read and approved the final manuscript.
Abstract
Background
Odonto-onycho-dermal dysplasia (OODD) is a rare form of ectodermal dysplasia characterized by severe oligodontia, onychodysplasia, palmoplantar hyperkeratosis, dry skin, hypotrichosis, and hyperhidrosis of the palms and soles. The ectodermal dysplasias resulting from biallelic mutations in the
WNT10A
gene result in highly variable phenotypes, ranging from isolated tooth agenesis to OODD and Schöpf-Schulz-Passarge syndrome (SSPS).
Case presentation
We identified a female patient, with consanguineous parents, who was clinically diagnosed with OODD. Genetic testing showed that she was homozygous for a previously reported pathogenic mutation in the
WNT10A
gene, c.321C > A, p.Cys107*. The skin and nail abnormalities were for many years interpreted as psoriasis and treated accordingly. A thorough clinical examination revealed hypotrichosis and hyperhidrosis of the soles and dental examination revealed agenesis of permanent teeth except the two maxillary central incisors. Skin biopsies from the hyperkeratotic palms and soles showed the characteristic changes of eccrine syringofibroadenomatosis, which has been described in patients with ectodermal dysplasias. Together with a family history of tooth anomalies, this lead to the clinical suspicion of a hereditary ectodermal dysplasia.
Conclusion
This case illustrates the challenges of diagnosing ectodermal dysplasia like OODD and highlights the relevance of interdisciplinary cooperation in the diagnosis of rare conditions.