19.01.2017 | ORIGINAL ARTICLE | Ausgabe 2/2017 Open Access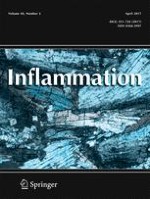 Off-Target Anti-Inflammatory Activity of the P2X7 Receptor Antagonist AZ11645373
Zeitschrift:
Autoren:

Olga V. Oskolkova, Viktoria Godschachner, Valery N. Bochkov
Abstract
We have found that a well-characterized P2X7 receptor antagonist AZ11645373 blocked production of pro-inflammatory chemokine IL-8 in endothelial cells treated with OxPAPC. The effect was not due to toxicity of AZ11645373 as documented by cellular metabolic activity assay. The mechanism of inhibition by AZ11645373 was apparently independent of the P2X7 receptor because this receptor was not involved in induction of IL-8 under our experimental conditions. In support of this notion, two P2X7 agonists ATP and BzATP did not upregulate IL-8. On the other hand, a chemically different P2X7 receptor antagonist A740003 did not inhibit OxPAPC-induced production of IL-8. The inhibitory action of AZ11645373 was observed at the level of IL-8 protein and messenger RNA (mRNA) induction. Furthermore, AZ11645373 inhibited induction of mRNA encoding for COX-2 (
PTGS2
) suggesting that its anti-inflammatory potential is not limited to suppression of IL-8 production. In addition to inhibiting stimulation by OxPAPC, AZ11645373 suppressed induction of IL-8 by TNFα and LPS. To summarize, AZ11645373 inhibits in a P2X7-independent manner action of chemically different inflammatory agonists such as OxPLs, LPS, and TNFα. Thus, AZ11645373 may be especially effective for treatment of inflammatory disorders due to a beneficial combination of P2X7 receptor-dependent effects (inhibition of inflammasome activation, antinociceptive effects) with P2X7-independent general anti-inflammatory action described in this paper.