01.12.2014 | Review | Ausgabe 1/2014 Open Access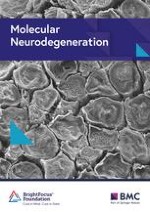 Oligomeric Aβ-induced synaptic dysfunction in Alzheimer's disease
Zeitschrift:
Autoren:

Shichun Tu, Shu-ichi Okamoto, Stuart A Lipton, Huaxi Xu
Wichtige Hinweise
Electronic supplementary material
The online version of this article (doi:
10.​1186/​1750-1326-9-48
) contains supplementary material, which is available to authorized users.
Competing interests
The authors declare that S.A.L. is the inventor on world-wide patents for the use of memantine and NitroMemantine for neurodegenerative disorders. Per Harvard University guidelines, S.A.L. participates in a royalty-sharing agreement with his former institution Boston Children's Hospital/Harvard Medical School, which licensed the drug memantine (Namenda®) to Forest Laboratories, Inc. The other authors declare no financial conflicts of interest.
Authors' contributions
ST and HX wrote the manuscript. SO and SAL revised the manuscript for intellectual content. All authors read and approved the final manuscript.
Abstract
Alzheimer's disease (AD) is a devastating disease characterized by synaptic and neuronal loss in the elderly. Compelling evidence suggests that soluble amyloid-β peptide (Aβ) oligomers induce synaptic loss in AD. Aβ-induced synaptic dysfunction is dependent on overstimulation of
N
-methyl-D-aspartate receptors (NMDARs) resulting in aberrant activation of redox-mediated events as well as elevation of cytoplasmic Ca
2+
, which in turn triggers downstream pathways involving phospho-tau (p-tau), caspases, Cdk5/dynamin-related protein 1 (Drp1), calcineurin/PP2B, PP2A, Gsk-3β, Fyn, cofilin, and CaMKII and causes endocytosis of AMPA receptors (AMPARs) as well as NMDARs. Dysfunction in these pathways leads to mitochondrial dysfunction, bioenergetic compromise and consequent synaptic dysfunction and loss, impaired long-term potentiation (LTP), and cognitive decline. Evidence also suggests that Aβ may, at least in part, mediate these events by causing an aberrant rise in extrasynaptic glutamate levels by inhibiting glutamate uptake or triggering glutamate release from glial cells. Consequent extrasynaptic NMDAR (eNMDAR) overstimulation then results in synaptic dysfunction via the aforementioned pathways. Consistent with this model of Aβ-induced synaptic loss, Aβ synaptic toxicity can be partially ameliorated by the NMDAR antagonists (such as memantine and NitroMemantine). PSD-95, an important scaffolding protein that regulates synaptic distribution and activity of both NMDA and AMPA receptors, is also functionally disrupted by Aβ. PSD-95 dysregulation is likely an important intermediate step in the pathological cascade of events caused by Aβ. In summary, Aβ-induced synaptic dysfunction is a complicated process involving multiple pathways, components and biological events, and their underlying mechanisms, albeit as yet incompletely understood, may offer hope for new therapeutic avenues.