01.03.2010 | Ausgabe 1/2010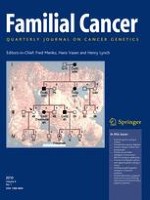 On the development of a decision support intervention for mothers undergoing
BRCA1/2

cancer genetic testing regarding communicating test results to their children
Zeitschrift:
Autoren:

Beth N. Peshkin, Tiffani A. DeMarco, Kenneth P. Tercyak
Abstract
Parent communication of
BRCA1/2
test results to minor-age children is an important, yet understudied, clinical issue that is commonly raised in the management of familial cancer risk. Genetic counseling professionals and others who work with parents undergoing this form of testing often confront questions about the risks/benefits and timing of such disclosures, as well as the psychosocial impact of disclosure and nondisclosure on children's health and development. This paper briefly reviews literature on the prevalence and outcome of parent–child communication surrounding maternal
BRCA1/2
test results. It also describes a formative research process that was used to develop a decision support intervention for mothers participating in genetic counseling and testing for
BRCA1/2
mutations to address this issue, and highlights the conceptual underpinnings that guided and informed the intervention's development. The intervention consists of a print-based decision aid to facilitate parent education and counseling regarding if, when, and potentially how to disclose hereditary cancer risk information to children. We conclude with a summary of the role of social, behavioral, and decision science research to support the efforts of providers of familial cancer care regarding this important decision, and to improve the outcomes of cancer genetic testing for tested parents and their nontested children.