01.12.2017 | Research article | Ausgabe 1/2017 Open Access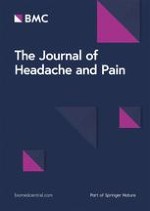 OnabotulinumtoxinA injections in chronic migraine, targeted to sites of pericranial myofascial pain: an observational, open label, real-life cohort study
Zeitschrift:
Autoren:

Danièle Ranoux, Gaelle Martiné, Gaëlle Espagne-Dubreuilh, Marlène Amilhaud-Bordier, François Caire, Laurent Magy
Abstract
Background
OnabotulinumtoxinA has proven its efficacy in reducing the number of headache days in chronic migraine (CM) patients. The usual paradigm includes 31 pericranial injection sites with low dose (5 U) per site. The aim of this study is to present the results obtained using a simpler injection protocol of onabotulinumtoxinA, with injection sites targeted to pericranial myofascial sites of pain.
Methods
Observational, open label, real-life, cohort study. We enrolled 63 consecutive patients fulfilling the diagnostic criteria of CM, and refractory to conventional treatments. The patients were injected using a "follow-the-pain" pattern into the corrugator and/or temporalis and/or trapezius muscles. The doses per muscle were fixed. According to the number of muscles injected, the total dose could vary from 70 to 150 U per session. Patients were considered responders if they had a ≥ 50% decrease in number of headache days in at least two consecutive injection cycles.
Results
Forty one patients (65.1% in intention to treat analysis) responded to treatment. In 70.7% of responders, the effect size was even higher, with a reduction ≥70% in the number of headache days. The associated cervical pain and muscle tenderness, present in 33 patients, was reduced by ≥50% in 31 patients (94%). Triptan consumption dramatically decreased (81%) in responders. The trapezius was the most frequently injected muscle. We observed no serious adverse event. The mean patient satisfaction rate was 8.5/10.
Conclusions
This study provides additional robust evidence supporting the efficacy of onabotulinumtoxinA injections in CM. Furthermore, the paradigm we used, with reduced number of injection sites targeted to pericranial myofascial sites of pain, may provide evidence in favor of the implication of myofascial trigger points in migraine chronicization.
Trial Registration
ClinicalTrials.gov Protocol Record I17022 ClinicalTrials.gov Identifier:
NCT03175263
.
Date of registration: June 7, 2017. Retrospectively registered.