01.12.2018 | Research article | Ausgabe 1/2018 Open Access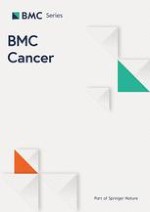 Oncological and reproductive outcomes of adenocarcinoma in situ of the cervix managed with the loop electrosurgical excision procedure
Zeitschrift:
Autoren:

Huimin Bai, Jun Liu, Qiuxi Wang, Ying Feng, Tong Lou, Shuzhen Wang, Yue Wang, Mulan Jin, Zhenyu Zhang
Abstract
Background
The standard treatment for cervical adenocarcinoma in situ (AIS) is hysterectomy, which is a more aggressive treatment than that used for squamous intraepithelial lesions. Several previous studies have primarily demonstrated that the loop electrosurgical excision procedure (LEEP) is as safe and effective as cold knife cone (CKC) biopsy when AIS is unexpectedly found in a loop excision. This study evaluated the safety of LEEP as the initial treatment for patients with AIS who were strictly selected and evaluated before and after loop resection.
Methods
The oncological and reproductive outcomes of a series of AIS patients who underwent LEEP as the initial treatment between February 2006 and December 2016 were retrospectively evaluated.
Results
A total of 44 women were eligible for analysis. The mean age at diagnosis was 36.1 years, and 14 patients were nulliparous. Multiple lesions were identified in 4 (9.1%) patients. Either hysterectomy (6 patients) or repeat cone biopsies (3 patients) were performed in 8 of the 10 patients who presented positive or not evaluable surgical resection margins (SMs) on the initial LEEP specimens. Residual disease was detected in two patients. All patients were closely followed for a mean of 36.9 months via human papillomavirus testing, PAP smears, colposcopy, and endocervical curettage when necessary. No recurrences were detected. Of the 16 patients who desired to become pregnant, 8 (50%) successfully conceived, and the full-term live birth rate was 83.3% among this subgroup.
Conclusions
LEEP with negative SMs was a safe and feasible fertility-sparing surgical procedure for patients with AIS, and the obstetric outcome was satisfactory. However, long-term follow-up is mandatory.