01.12.2018 | Case report | Ausgabe 1/2018 Open Access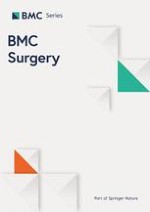 One visceral artery may be enough; successful pancreatectomy in a patient with total occlusion of the celiac and superior mesenteric arteries
Zeitschrift:
Autoren:

Evangelos Tagkalos, Florian Jungmann, Hauke Lang, Stefan Heinrich
Abstract
Background
The anatomic variations of the visceral arteries are not uncommon. The liver arterial blood supply shows 50% variability between humans, with the most common anatomy being one hepatic artery arising from the celiac trunk and one pancreatico-duodenal arcade between the celiac trunk and the superior mesenteric artery. Occlusion of one artery are mostly asymptomatic but may become clinically relevant when surgery of the liver, bile duct or the pancreas is required. If these pathologies are not reversible, an oncologic pancreatic head resection cannot be performed.
Case presentation
We report the case of a 64-year-old Caucasian female patient with a locally advanced, resectable adenocarcinoma of the pancreas with complete atherosclerotic occlusion of the celiac trunk and the superior mesenteric artery. This vascular anomaly was missed on the preoperative imaging and became known postoperatively. A collateral circulation from a hypertrophic inferior mesenteric artery to the celiac trunk and the superior mesenteric artery compensated the blood supply to the visceral organs. The postoperative course was complicated by an elevation of the transaminases AST/ALT, which normalized under conservative treatment with alprostadil (prostavasin™) and anticoagulation, since angiographic recanalization failed. The patient recovered fully and was discharged at the 14th postoperative day. Two years later, she required endovascular repair of an aortic rupture during which the inferior mesenteric artery was preserved.
Conclusion
This case underlines the natural potential of the human body to adapt to chronic arterial malperfusion by creating a collateral circulation and supports the need for adequate preoperative imaging, including a proper arterial phase before upper abdominal surgery.