01.12.2017 | Research article | Ausgabe 1/2017 Open Access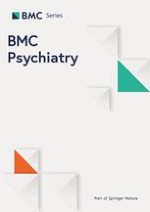 Operationalization of diagnostic criteria of DSM-5 somatic symptom disorders
Zeitschrift:
Autoren:

Nana Xiong, Yaoyin Zhang, Jing Wei, Rainer Leonhart, Kurt Fritzsche, Ricarda Mewes, Xia Hong, Jinya Cao, Tao Li, Jing Jiang, Xudong Zhao, Lan Zhang, Rainer Schaefert
Wichtige Hinweise
Electronic supplementary material
Abstract
Background
The aim of this study was to test the operationalization of DSM-5 somatic symptom disorder (SSD) psychological criteria among Chinese general hospital outpatients.
Methods
This multicenter, cross-sectional study enrolled 491 patients from 10 general hospital outpatient departments. The structured clinical "interview about cognitive, affective, and behavioral features associated with somatic complaints" was used to operationalize the SSD criteria B. For comparison, DSM-IV somatoform disorders were assessed with the Mini International Neuropsychiatric Interview plus. Cohen's к scores were given to illustrate the agreement of the diagnoses.
Results
A three-structure model of the interview, within which items were classified as respectively assessing the cognitive (B1), affective (B2), and behavioral (B3) features, was examined. According to percentages of screening-positive persons and the receiver operator characteristic (ROC) analysis, a cut-off point of 2 was recommended for each subscale of the interview. With the operationalization, the frequency of DSM-5 SSD was estimated as 36.5% in our sample, and that of DSM-IV somatoform disorders was 8.2%. The agreement between them was small (Cohen's к = 0.152). Comparisons of sociodemographic features of SSD patients with different severity levels (mild, moderate, severe) showed that mild SSD patients were better-off in terms of financial and employment status, and that the severity subtypes were congruent with the level of depression, anxiety, quality of life impairment, and the frequency of doctor visits.
Conclusions
The operationalization of the diagnosis and severity specifications of SSD was valid, but the diagnostic agreement between DSM-5 SSD and DSM-IV somatoform disorders was small. The interpretation the SSD criteria should be made cautiously, so that the diagnosis would not became over-inclusive.