19.12.2015 | NEW STUDY | Ausgabe 2/2016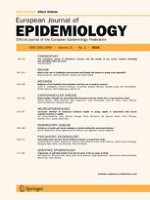 Ophthalmic epidemiology in Europe: the "European Eye Epidemiology" (E3) consortium
Zeitschrift:
Autoren:

Cécile Delcourt, Jean-François Korobelnik, Gabriëlle H. S. Buitendijk, Paul J. Foster, Christopher J. Hammond, Stefano Piermarocchi, Tunde Peto, Nomdo Jansonius, Alireza Mirshahi, Ruth E. Hogg, Lionel Bretillon, Fotis Topouzis, Gabor Deak, Jakob Grauslund, Rebecca Broe, Eric H. Souied, Catherine Creuzot-Garcher, José Sahel, Vincent Daien, Terho Lehtimäki, Hans-Werner Hense, Elena Prokofyeva, Konrad Oexle, Jugnoo S. Rahi, Phillippa M. Cumberland, Steffen Schmitz-Valckenberg, Sascha Fauser, Geir Bertelsen, Carel Hoyng, Arthur Bergen, Rufino Silva, Sebastian Wolf, Andrew Lotery, Usha Chakravarthy, Astrid Fletcher, Caroline C. W. Klaver
Wichtige Hinweise
Electronic supplementary material
The online version of this article (doi:
10.​1007/​s10654-015-0098-2
) contains supplementary material, which is available to authorized users.
On behalf of the European Eye Epidemiology (E3) consortium.
Please see "
Appendix
" section for European Eye Epidemiology (E3) consortium members.
Abstract
The European Eye Epidemiology (E3) consortium is a recently formed consortium of 29 groups from 12 European countries. It already comprises 21 population-based studies and 20 other studies (case–control, cases only, randomized trials), providing ophthalmological data on approximately 170,000 European participants. The aim of the consortium is to promote and sustain collaboration and sharing of data and knowledge in the field of ophthalmic epidemiology in Europe, with particular focus on the harmonization of methods for future research, estimation and projection of frequency and impact of visual outcomes in European populations (including temporal trends and European subregions), identification of risk factors and pathways for eye diseases (lifestyle, vascular and metabolic factors, genetics, epigenetics and biomarkers) and development and validation of prediction models for eye diseases. Coordinating these existing data will allow a detailed study of the risk factors and consequences of eye diseases and visual impairment, including study of international geographical variation which is not possible in individual studies. It is expected that collaborative work on these existing data will provide additional knowledge, despite the fact that the risk factors and the methods for collecting them differ somewhat among the participating studies. Most studies also include biobanks of various biological samples, which will enable identification of biomarkers to detect and predict occurrence and progression of eye diseases. This article outlines the rationale of the consortium, its design and presents a summary of the methodology.