05.12.2016 | Original Research | Ausgabe 1/2017 Open Access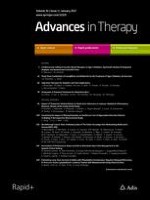 Opioid-Induced Bowel Dysfunction in Patients Undergoing Spine Surgery: Comparison of Oxycodone and Oxycodone-Naloxone Treatment
Zeitschrift:
Autoren:

Merja Kokki, Moona Kuronen, Toivo Naaranlahti, Timo Nyyssönen, Ira Pikkarainen, Sakari Savolainen, Hannu Kokki
Wichtige Hinweise
M. Kokki and M. Kuronen contributed equally.
Abstract
Introduction
Opioids are needed for postoperative pain in spine surgery patients, but opioid-induced constipation is a harmful adverse event. The aim of this clinical trial was to compare the use of a controlled-release oxycodone-naloxone combination product with oxycodone controlled-release tablets in these patients. The main outcome measure was the prevalence of constipation at 7 days postoperatively assessed with a Bowel Function Index questionnaire. A follow-up assessment at 21 days after surgery was also included.
Methods
A total of 180 patients undergoing spine surgery, 91 having preoperative opioids in use and 89 opioid-naïve, were randomized to receive twice-daily oxycodone 10 mg or oxycodone-naloxone 10/5 mg controlled-release tablets for the first 7 postoperative days. Patients were followed-up for 21 days after surgery.
Results
At baseline, prevalence of constipation was common both in the opioid-naïve—25/87 (29%) and on-opioid groups 43/90 (48%) (
P
= 0.009). This increased at 7 days postoperatively with no difference between the groups, 54/89 with oxycodone and 54/88 with oxycodone-naloxone had constipation. At 21 days, constipation was less than in the baseline in both groups, in the opioid-naïve group the prevalence of constipation was 3/43 (7%) in patients with oxycodone-naloxone compared to 9/44 (21%) with oxycodone (effect size 0.68;
P
= 0.068). Both study compounds provided similar pain relief and were well tolerated.
Conclusion
In patients presented for back surgery, the prevalence of constipation was significantly higher than that in the community. In opioid-naïve subjects, oxycodone-naloxone was beneficial concerning constipation; but this was not distinguishable in subjects with chronic opioid use. The analgesic efficacy of oxycodone and oxycodone-naloxone was similar.
Trial registration
: European Clinical Trials Database (EudraCT no. 2012-001816-42) and ClinicalTrials.gov database (Identifier: NCT02573922).