01.12.2012 | Research | Ausgabe 1/2012 Open Access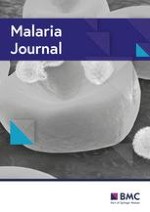 Opsonization of malaria-infected erythrocytes activates the inflammasome and enhances inflammatory cytokine secretion by human macrophages
Zeitschrift:
Autoren:

Jingling Zhou, Louise E Ludlow, Wina Hasang, Stephen J Rogerson, Anthony Jaworowski
Wichtige Hinweise
Electronic supplementary material
The online version of this article (doi:
10.​1186/​1475-2875-11-343
) contains supplementary material, which is available to authorized users.
Jingling Zhou, Louise E Ludlow contributed equally to this work.
Competing interests
The authors declare that they have no competing interests.
Authors' contributions
JZ and LEL performed experiments and participated in data analysis. WH performed experiments. SJR designed the study, participated in data analysis and helped to draft the manuscript. AJ designed the study and drafted the manuscript. All authors read and approved the final manuscript.
Abstract
Background
Antibody opsonization of
Plasmodium falciparum
-infected erythrocytes (IE) plays a crucial role in anti-malarial immunity by promoting clearance of blood-stage infection by monocytes and macrophages. The effects of phagocytosis of opsonized IE on macrophage pro-inflammatory cytokine responses are poorly understood.
Methods
Phagocytic clearance, cytokine response and intracellular signalling were measured using IFN-γ-primed human monocyte-derived macrophages (MDM) incubated with opsonized and unopsonized trophozoite-stage CS2 IE, a chondroitin sulphate-binding malaria strain. Cytokine secretion was measured by bead array or ELISA, mRNA using quantitative PCR, and activation of NF-κB by Western blot and electrophoretic mobility shift assay. Data were analysed using the Mann–Whitney U test or the Wilcoxon signed rank test as appropriate.
Results
Unopsonized CS2 IE were not phagocytosed whereas IE opsonized with pooled patient immune serum (PPS) were (Phagocytic index (PI)=18.4, [SE 0.38] n=3). Unopsonized and opsonized IE induced expression of TNF, IL-1β and IL-6 mRNA by MDM and activated NF-κB to a similar extent. Unopsonized IE induced secretion of IL-6 (median= 622 pg/ml [IQR=1,250-240], n=9) but no IL-1β or TNF, whereas PPS-opsonized IE induced secretion of IL-1β (18.6 pg/mL [34.2-14.4]) and TNF (113 pg/ml [421–17.0]) and increased IL-6 secretion (2,195 pg/ml [4,658-1,095]). Opsonized, but not unopsonized, CS2 IE activated caspase-1 cleavage and enzymatic activity in MDM showing that Fc receptor-mediated phagocytosis activates the inflammasome. MDM attached to IgG-coated surfaces however secreted IL-1β in response to unopsonized IE, suggesting that internalization of IE is not absolutely required to activate the inflammasome and stimulate IL-1β secretion.
Conclusions
It is concluded that IL-6 secretion from MDM in response to CS2 IE does not require phagocytosis, whereas secretion of TNF and IL-1β is dependent on Fcγ receptor-mediated phagocytosis; for IL-1β, this occurs by activation of the inflammasome. The data presented in this paper show that generating antibody responses to blood-stage malaria parasites is potentially beneficial both in reducing parasitaemia via Fcγ receptor-dependent macrophage phagocytosis and in generating a robust pro-inflammatory response.