01.12.2015 | Case report | Ausgabe 1/2015 Open Access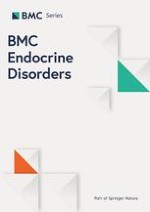 Optic glioma and precocious puberty in a girl with neurofibromatosis type 1 carrying an R681X mutation of
NF1

: case report and review of the literature
Zeitschrift:
Autoren:

Mirjana Kocova, Elena Kochova, Elena Sukarova-Angelovska
Wichtige Hinweise
Competing interests
The authors declare that they have no competing interests.
Authors' contributions
The patient was under the care of MK, who conceived the idea of the report and drafted the manuscript. EK participated in the writing, review of the literature, text editing and finalization of the manuscript. ESA carried out the molecular genetic studies and participated in the review of the literature. All authors read and approved the final manuscript.
Abstract
Background
Neurofibromatosis type 1 (NF1) is a common autosomal dominant genetic disorder with an extremely variable phenotype. In childhood NF1 can be associated with optic glioma and central precocious puberty; the latter is more common when the optic chiasm is affected. The mutational spectrum of the NF1 gene is wide and complex; R681X is a rare severe mutation of the NF1 gene known to cause truncation of neurofibromin, with only ten reported cases in the literature so far.
Case presentation
We describe a girl with NF1 associated with early central precocious puberty appearing at 2.5 years of age and optic glioma affecting the optic chiasm as seen on magnetic resonance imaging (MRI). Genetic analysis confirmed the presence of R681X. Therapy with a gonadotropin-releasing hormone agonist was instituted with good response to therapy. The lesions on MRI were stable and no significant vision impairment was present during the 6 years of follow-up.
Conclusion
Of the ten reported cases of NF1 due to R681X, one has presented with optic glioma and none with precocious puberty. Thus, to our knowledge, this is the first reported case of this mutation presenting with precocious puberty. We believe that this is a contribution to the few reports on the phenotype of this mutation and to the future elucidation of genotype-phenotype correlations of this disease.