01.12.2018 | Case report | Ausgabe 1/2018 Open Access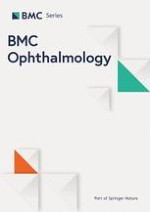 Optical coherence tomography findings of falciform retinal detachment complicated with persistent fetal vasculature
Zeitschrift:
Autoren:

Daisaku Kimura, Masanori Fukumoto, Takaki Sato, Ryohsuke Kohmoto, Takatoshi Kobayashi, Teruyo Kida, Tsunehiko Ikeda
Abstract
Background
Falciform retinal detachment (FRD) usually causes pronounced retinal wrinkles, and the prognosis of visual function is poor. In this present study, we report a rare case of FRD in which optical coherence tomography (OCT) findings revealed a relatively good visual function.
Case presentation
This study involved a 22-year-old female who had previously been diagnosed with FRD at 2 years of age, and who presented with microphthalmus in both eyes with pronounced retinal folds from the optic disc to the inferior-temporal side. Based on the clinical findings, we diagnosed it as persistent fetal vasculature (PFV). We found the visual function in her left eye to be relatively poor, yet from 6 to 22 years of age, the corrected visual acuity in that eye remained at 0.08. Although a nystagmus was present, Goldman perimetry showed a relatively wider visual field than expected. Optical coherence tomography (OCT) findings revealed that the retinal layer structure near the FRD was relatively well maintained, except for the temporal peripheral region.
Conclusions
Our findings reveal that OCT examination can be considered useful for predicting the visual function in cases of FRD.