13.02.2019 | Brief Article | Ausgabe 3/2019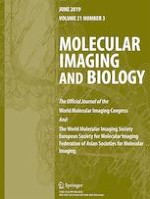 Optical Redox Imaging Detects the Effects of DEK Oncogene Knockdown on the Redox State of MDA-MB-231 Breast Cancer Cells
Zeitschrift:
Autoren:

Yu Wen, He N. Xu, Lisa Privette Vinnedge, Min Feng, Lin Z. Li
Wichtige Hinweise
Electronic supplementary material
Publisher's Note
Springer Nature remains neutral with regard to jurisdictional claims in published maps and institutional affiliations.
Abstract
Purpose
Optical redox imaging (ORI), based on collecting the endogenous fluorescence of reduced nicotinamide adenine dinucleotide (NADH) and oxidized flavoproteins (Fp) containing a redox cofactor flavin adenine dinucleotide (FAD), provides sensitive indicators of cellular metabolism and redox status. ORI indices (such as NADH, FAD, and their ratio) have been under investigation as potential progression/prognosis biomarkers for cancer. Higher FAD redox ratio (
i.e.
, FAD/(FAD + NADH)) has been associated with higher invasive/metastatic potential in tumor xenografts and cultured cells. This study is to examine whether ORI indices can respond to the modulation of oncogene DEK activities that change cancer cell invasive/metastatic potential.
Procedures
Using lentiviral shRNA, DEK gene expression was efficiently knocked down in MDA-MB-231 breast cancer cells (DEKsh). These DEKsh cells, along with scrambled shRNA-transduced control cells (NTsh), were imaged with a fluorescence microscope.
In vitro
invasive potential of the DEKsh cells and NTsh cells was also measured in parallel using the transwell assay.
Results
FAD and FAD redox ratios in polyclonal cells with DEKsh were significantly lower than that in NTsh control cells. Consistently, the DEKsh cells demonstrated decreased invasive potential than their non-knockdown counterparts NTsh cells.
Conclusions
This study provides direct evidence that oncogene activities could mediate ORI-detected cellular redox state.