01.12.2018 | Research article | Ausgabe 1/2018 Open Access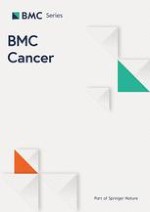 Optimal predictor for 6-mercaptopurine intolerance in Chinese children with acute lymphoblastic leukemia: NUDT15, TPMT, or ITPA genetic variants?
Zeitschrift:
Autoren:

Hong Zhou, Lei Li, Peng Yang, Lin Yang, Jin E. Zheng, Ying Zhou, Yong Han
Abstract
Background
6-mercaptopurine (6-MP) contributes substantially to remarkable improvement in the survival of childhood acute lymphoblastic leukemia (ALL) patients. However, 6-MP also has dose-limiting toxicities, particularly life-threatening myelosuppression, due to genetic polymorphisms in enzymes that metabolize 6-MP. Promising biomarkers for predicting 6-MP-induced leukopenia is still unclear in Chinese population. Here, we evaluated the associations of NUDT15, TPMT and ITPA genotypes with 6-MP intolerance in our cohort of childhood ALL patients.
Methods
A total of 105 Chinese pediatric patients with a confirmed diagnosis of ALL were enrolled. We identified the NUDT15 coding variant rs116855232 (c.415C > T), a newly discovered 6-MP toxicity-related locus in Asians, and polymorphisms in TPMT rs1142345 and ITPA rs11273540. Associations between genotypes and 6-MP dose sensitivity, leukopenia, hepatotoxicity, and therapy interruption were evaluated.
Results
The minor allele frequencies (MAFs) of NUDT15 rs116855232, TPMT rs1142345 and ITPA rs11273540 were 15.7, 2.9, and 18.1%, respectively. NUDT15 and TPMT genetic variants were strongly associated with 6-MP dose intensity. Patients with NUDT15 homogenous genotype (TT) were highly sensitive to 6-MP (dose intensity of 60.27%) compared to these with heterozygous genotype (TC) or wild type (CC), who tolerated an average dose intensity of 83.83 and 94.24%, respectively. The NUDT15 variant was a predictor for leukopenia (OR: 3.62, 95% CI 1.377–9.501,
P
 = 0.009) and early-onset leukopenia (OR: 9.63, 95% CI 2.764–33.514,
P
 = 3.75 × 10
− 4
). No differences were found between 6-MP dose intensity and ITPA polymorphisms.
Conclusion
NUDT15 variant is an optimal predictor for 6-MP intolerance in Chinese pediatric ALL patients and may have greatly clinical implications for individualized therapy.