01.12.2014 | Original Article | Ausgabe 3/2014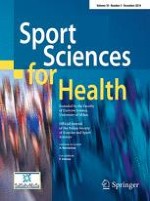 Optimization of sEMG electrode positioning in vastus lateralis muscle during neuromuscular electrical stimulation
Zeitschrift:
Autoren:

Valeria Rosso, Alberto Rainoldi
Abstract
Purpose
The aim of the study was to estimate spatial activation of vastus lateralis (VL) muscle during electrical stimulation applied to the entire muscle in absence of fatigue and properly eliminating the influence of stimulation artifact.
Methods
Ten healthy men were enrolled in this study. The current was delivered to VL by two electrodes placed proximally and distally, for 5 s at the higher intensity that subjects can tolerate. Superficial electromyography (sEMG) signals were acquired using a bidimensional array of 63 electrodes positioned between the two stimulating electrodes along muscle fibers. For each subjects average rectified value (ARV) was estimated on normalized sEMG signals dividing bidimensional array in two areas, then the barycenter of the more active area was estimated. Finally, average barycenter coordinates were calculated among subjects since Kruskal–Wallis and Dunn-Sidak post hoc test confirmed no statistical differences among subjects in the more active area.
Results
ARV analysis showed that the VL more active area was located laterally and distally with respect to the center of the bidimensional array. Mean and standard deviation among subjects revealed that barycenter of more active zone in medio-lateral direction was between electrodes 1 and 2 and in proximal–distal direction was between electrodes 10 and 11. This location corresponds to a well-defined area in the framework of anatomical landmarks defined in the text.
Conclusions
It was possible to assess that VL during electrical stimulation was activated differently throughout its volume. In particular, distal-lateral portion of the muscle was more active with respect to the other.