01.12.2017 | Research | Ausgabe 1/2017 Open Access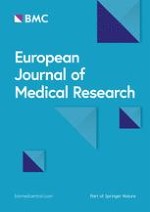 Optimized protocol for whole organ decellularization
Zeitschrift:
Autoren:

A. Schmitt, R. Csiki, A. Tron, B. Saldamli, J. Tübel, K. Florian, S. Siebenlist, E. Balmayor, R. Burgkart
Background
Nowadays, great hope is given to tissue engineering techniques to create new tissues, or even whole organs. Even if there has been substantial progress in this research field during the recent years, tissue engineering procedures have barely reached the patient.
The main problem in tissue engineering of solid tissues remains the vascularization of the constructs [
1
]. The lack of vascularization will lead to necrosis of tissue samples larger than 400 µm in diameter [
2
].
The use of decellularized tissues or organs as tissue engineering matrix could provide a solution for this challenge. A proper decellularization without destruction of the vascular network could provide a tissue engineering matrix with inherent vascularity. During the recent years, researchers have seized the idea of decellularization. This resulted in some breakthroughs in the whole organ tissue engineering. In 2008, a perfused, pumping heart could be generated in vitro by reseeding a decellularized rat heart with cardiomyocytes [
3
]. Furthermore, recellularized liver matrix could be successfully transplanted into a rat model [
4
]. Even whole lungs were successfully decellularized, recolonialized, and replanted in a rat model, where they provided gas exchange in vivo [
5
,
6
].
Recently, our group could extend the relevance of the decellularization technique as platform technology for tissue engineering. We could give a proof of principle that the decellularization technique can provide a universal matrix for tissue engineering, even beyond tissue and species barriers [
7
].
The aim of the present study is to optimize the decellularization protocol for solid organs. Decellularization parameters and washing steps will be systematically investigated to reach an optimized, fast, and reproducible procedure that prevents the architecture of the extracellular matrix without leaving toxic remnants and cell residues.
Methods
Decellularization of rat kidneys
Rat kidneys were harvested from cadavers of approximately 500 g Sprague-Dawley rats. Kidneys were obtained from the animals within 30 min after euthanasia and frozen at −80 °C in PBS for 4–12 weeks. There was no anticoagulation medication applied to the animals before harvesting of the kidneys. For decellularization procedure, the kidneys were thawed, the surrounding soft tissue was removed, and a cannula was fixed in the renal artery. That cannula was then connected to a pressure-controlled roller pump (Arthrex AR-6475).
The decellularization procedure was performed at ambient temperature at a perfusion pressure of 100 mmHg. The decellularization procedure was performed at sterile conditions and contains multiple steps as illustrated in Table
1
.
Table 1
Steps of the decellularization procedure
Step

Perfusion solution

Volume (ml)

Perfusion time

1

PBS

200

10 min

2

SDS (concentration variable, compare Table

2

)

300

Variable (compare Table

2

)

3

PBS (1st washing step)

200

60 min

4

PBS (2nd washing step)

200

60 min

5

PBS (3rd washing step)

200

60 min

6

PBS (4th washing step)

200

60 min

7

PBS (5th washing step)

200

60 min
Protein detection using BCA assay
Total protein content in flowout from the washing steps was determined using BCA Protein Assay Kit (Thermo Scientific), according to the manufacturer's protocol.
Histology
For histologic investigations, samples were embedded into paraffin, cut into 3-µm slices, deparaffinized, and rehydrated. Samples were stained with hematoxylin and eosin. In addition, immunohistochemical stainings were performed. For immunohistochemistry, endogenous peroxidase was inactivated, and immunohistochemistry was performed using the Vectastain ABC avidin–biotin system (Vector Laboratories) in combination with AEC substrate chromogen (Dako). Primary antibodies were used in the following concentrations: anti-Laminin 1:500 (Dako), anti-Fibronectin 1:250 (Dako). Isotype anti-IgG anti-bodies were used as negative controls in corresponding dilutions. Counterstaining was performed using hematoxylin.
For SYBR Green staining, the SYBR Green I reagent was used at a concentration of 1:10,000 in PBS on paraformaldehyde-fixed paraffin- embedded tissue slices.
Allura red staining
10 mg Allura Red (Sigma) was added to 20 mL of freshly made liquid solution of porcine gelatin in warm distilled water. The prepared solution was injected into the renal artery after decellularization.
SDS detection
For direct detection of SDS within the washing solutions, we used the method described by Rusconi et al. [
8
]. In brief, 10 µl washing solution was mixed with 150 µl reagent solution (1 ml stains-all standard solution [2 mg Stains-All, 1 ml isopropanol, 1 ml dH
2
O], 1 ml formamide, 18 ml dH
2
0). Photometric detection was performed at 450 nm and quantified using a SDS standard curve. Validation of the method revealed a detection limit of 0.0025% SDS in our experimental setting.
Cell culture
Primary human osteoblasts were isolated from femur heads of patients undergoing prosthetic replacement, as previously described [
7
]. This happened in accordance with the ethical code of ''Klinikum rechts der Isar'' (Technical University Munich, Germany) and having obtained the patients' written consent. Osteoblasts were cultivated in DMEM with 1 g/l glucose, supplemented with 15% FCS, 1%
l
-glutamine, 1% MEM vitamins, 2% HEPES buffer, 100 U/ml penicillin, 100 mg/ml streptomycin, and 285 mM
l
-ascorbate-2-phosphate, whereas C2C12-cells were cultivated in DMEM with 4.5 g/L glucose, supplemented with 10% FCS, 1%
l
-glutamine, 1% MEM vitamins, 2% HEPES buffer, 100 U/ml penicillin, 100 mg/ml streptomycin. The medium was changed every 5 days. Primary osteoblasts were used for experiments in the 3rd–5th passages. Before experimental use, the phenotype of primary osteoblasts was verified by alkaline phosphatase (ALP), collagen type I, and osteocalcin staining.
Alamar blue and LDH assays
Alamar blue assay (AbD Serotec) and Cytotoxicity Detection Kit (LDH) (Roche) were used according to the manufacturer's protocol. For toxicity testing, C2C12-cells were seeded at a density of 15,000 cells/cm 2. Adherent cells were incubated for 24 h with a 1:1 mixture of culture medium and the washing solution to test. As controls, a 1:1 mixture of culture medium and 0.1% Triton X-100, respectively, of 0.05% and 0.005% SDS was used. After 24 h, the test medium was probed for LDH, and cells were incubated with the Alamar blue reagent for 3 h. In Alamar blue testing, cells cultivated with fully supplemented cell culture medium (DMEM) were used as positive control. All other groups were drafted as "relative survival" according to the DMEM group. For LDH testing, 0.1% Triton X-100 was used as positive control. This concentration leads to full death of the indicator cells. All other groups were drafted as "relative survival" according to the 0.1% Triton X-100 group.
Seeding and culture of cells in decellularized rat kidneys
Cells were seeded through the vascular system into the decellularized kidneys through the attached catheter. 1 × 10
7
cells were suspended in 10 ml culture medium and injected into the renal artery. The seeded kidney scaffolds were placed in sterile flasks in a cell culture incubator under normal cell culture conditions (37 °C, 5% CO
2
). Perfusion under 50 mmHg pressure was started 4 h after seeding with osteoblast growth medium (DMEM w/o calcium, supplemented with 15% FCS, 1%
l
-glutamine, 2% HEPES buffer, 100 U/ml penicillin, 100 mg/ml streptomycin, 285 mM
l
-ascorbate-2-phosphate, and 100 nM dexamethasone). At 24 h after seeding, the perfusion pressure was increased to 100 mmHg, and a total of 300 ml of cell culture medium was recirculated. Medium was changed every 3 days.
Results
Discussion
In the present study, we established a standardized, time--efficient, and reproducible protocol for solid tissue decellularization. The procedure provides a complete decellularized extracellular matrix with preservation of the general tissue architecture, including the inherent vascular network. Our study confirms that this matrix is capable of growing cells under dynamic conditions without signs of remaining cell toxicity. This technique can serve as a platform technology for tissue engineering of vascularized tissues, as it can provide a solution to solve the existing limiting problem of vascularization.
Furthermore, most protocols include recircularization of the detergent solution. During our experiments, we demonstrated that avoiding recircularization and using fresh detergent solution resulted in marked increase in the decellularization efficacy (data not shown).
Furthermore, we could demonstrate that the matrix obtained from rat kidneys is sufficient to grow cells from other species and tissue origin within. This underlines the potential of the established platform technology to generate a universal tissue engineering matrix for vascularized tissue engineering.
However, the present study possesses some limitations. The established protocol is optimized for decellularization of rat kidneys. It is likely that decellularization kinetics is different in other tissue sources and needs further adaption of the protocol proposed in this study. We investigated the applicability of the obtained matrix to grow cells from other tissues and species origin by cultivating human osteoblasts within. Of course, other cell types could be more sensitive to the matrix environment. Therefore, further studies with different cell types and decellularized matrices from different tissues and species are necessary.
Authors' contributions
AS performed the experiments, designed the study, and wrote the manuscript. RC, AT, KF, and SS performed the experiments. BS and EB performed the experiments and designed the study. JT performed the experiments and provided technical support. RB supervised the experiments, designed the study, and wrote the manuscript. All the authors read and approved the final manuscript.
Acknowledgements
Not applicable.
Competing interests
The authors declare that they have no competing interests.
Availability of data and materials
The datasets used and/or analyzed during the current study are available from the corresponding author on reasonable request.
Consent for publication
Not available.
Ethics approval and consent to participate
All used osteoblasts were isolated from patients undergoing total hip replacement in the Department of Orthopedics, Klinikum rechts der Isar, Technical University Munich. The study was approved by the ethics committee of the faculty of Medicine of Technical University Munich, Germany. The patients provided their written consent before surgery.
Publisher's Note
Springer Nature remains neutral with regard to jurisdictional claims in published maps and institutional affiliations.
Open Access
This article is distributed under the terms of the Creative Commons Attribution 4.0 International License (
http://​creativecommons.​org/​licenses/​by/​4.​0/​
), which permits unrestricted use, distribution, and reproduction in any medium, provided you give appropriate credit to the original author(s) and the source, provide a link to the Creative Commons license, and indicate if changes were made. The Creative Commons Public Domain Dedication waiver (
http://​creativecommons.​org/​publicdomain/​zero/​1.​0/​
) applies to the data made available in this article, unless otherwise stated.