20.08.2020 | Updates In Spine Surgery—Techniques, Biologics, and Non-Operative Management (W Hsu, Section Editor) | Ausgabe 6/2020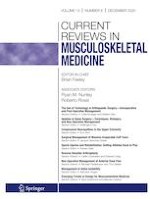 Optimizing the Spinal Interbody Implant: Current Advances in Material Modification and Surface Treatment Technologies
Zeitschrift:
Autoren:

Paul J. Park, Ronald A. Lehman
Wichtige Hinweise
This article is part of the Topical Collection on
Updates In Spine Surgery—Techniques, Biologics, and Non-Operative Management
Publisher's note
Springer Nature remains neutral with regard to jurisdictional claims in published maps and institutional affiliations.
Abstract
Purpose of Review
Interbody implants allow for fusion of the anterior column of the spine between vertebral body endplates. As rates of spinal fusion surgery have increased over the past several years, significant research has been devoted to optimizing both the mechanical and biologic properties of the interbody implant in order to promote bony fusion. The first interbody implants used decades ago were fashioned from cortical autograft. Currently, titanium alloy and polyetheretherketone (PEEK) are the most widely used and studied materials for this purpose. This review focuses on recent innovations in material modification and surface treatment techniques for both titanium and PEEK implants to maximize fusion rates in spinal surgery.
Recent Findings
Titanium has an elastic modulus much higher than native bone and however has better osseointegrative properties than PEEK. PEEK, however, has an elastic modulus closer to that of bone without any of the advantageous biologic properties that titanium has. Increasing porosity and surface roughness of titanium implants have been shown to improve the mechanical properties of titanium implants, while the biologic properties of PEEK have been enhanced using surface coating technology, either with titanium or with hydroxyapatite (HA).
Summary
Techniques such as increasing porosity, surface roughening, and surface coating are just some of the recent innovations aimed at optimizing both mechanical and biologic properties of interbody implants to promote spinal fusion. The future of interbody implant design will rely on continued improvements of PEEK and titanium implants as well as exploring new implant materials altogether.