01.12.2012 | Research article | Ausgabe 1/2012 Open Access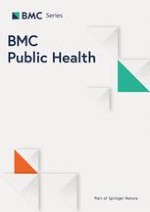 Oral and anal sex practices among high school youth in Addis Ababa, Ethiopia
Zeitschrift:
Autoren:

Amsale Cherie, Yemane Berhane
Wichtige Hinweise
Electronic supplementary material
The online version of this article (doi:
10.​1186/​1471-2458-12-5
) contains supplementary material, which is available to authorized users.
Competing interests
The authors declare that they have no competing interests.
Authors' contributions
Both authors participated from the inception of the research idea to proposal development, data collection, analysis and preparation of the manuscript. All authors have read and approved the final manuscript.
Background
Studies on oral and anal sex practices and the associated factors among youth in Ethiopia are scarce. In addition, most studies use individual factors as a predictor to sexual behavior while the sexual behavior of young people is influenced by a multitude of factors. The ecological framework, however, looks into the individual, parental and peer influences on youth sexual behavior. Therefore, understanding the determinants of oral and anal sex using the ecological framework is crucial. Thus, it was the purpose of this study to describe oral and anal sex practices and identify associated factors among high school youth. In effect, this research provides the basis for the designing and implementation of effective preventive interventions that seek to minimize sexual risk behavior and, thereby reducing the incidence of HIV and STIs. This research also seeks to inform clinical practice, education and counseling guidelines.
Methods
This is a cross sectional study conducted among regularly attending high school youth in Addis Ababa, Ethiopia.
All high schools primarily established to enroll Ethiopian students in the city of Addis Ababa and students whose age was 15-24 years were included in the study. However, students who were not able to complete the questionnaire without assistance such as the visually impaired were excluded.
The study population was selected from the source population using three-stage sampling. Addis Ababa is administratively divided into 10 Sub Cities. In the first step one high school was selected randomly from each sub-city. The sample size for each selected school was assigned proportionate to the total student population. Then, in the selected schools, from each grade, one section was selected by lottery method. Students from the identified section were selected using a systematic sampling method. The starting number was randomly chosen from the first three in the section roll call. Every third student was then taken until the assigned number was reached.
The survey was a paper-and-pencil self-administered questionnaire. The questionnaire was prepared in English and translated into Amharic (the Ethiopian national language). The Amharic questionnaire was pre-tested in schools not selected for the study. Two supervisors with master of public health and ten nurses facilitated the data collection. The research team was trained for 2 days to help them understand the purpose of the study and familiarize themselves with the questions so that they can explain to students, if asked. Data collection in all schools was completed within 1 week to minimize information contamination. The Principal Investigator made both scheduled and unscheduled (surprise) supervisory visits during the data collection. Before commencing the study, official contact with concerned personnel of the City Education Bureau, Zonal Education Bureau, directors of the selected schools and guidance of each school were made by the Principal Investigator. Refreshments were provided for all participants.
To assess the oral and anal sexual activity of students all participants were asked whether they ever had oral or anal sexual intercourse in their lifetime. Yes and no responses were available to be circled by the respondents. Oral sex was defined as "when some-one puts his or her mouth on their partner's penis or vagina or lets their partner put his or her mouth on their penis or vagina". Anal sex means when a man puts his penis in his partner's anus or when one lets their partner insert the penis in their anus".
Data coding, entry, and cleaning was processed using EPI info version 6.4 and the analysis was made using SPSS version 15 statistical package. Analysis was guided by the ecologi cal framework. The coding of open ended questions was made by two persons. Each coder categorized the responses in the same way. Logistic regression models were used to see the association of oral and anal sex and independent variables at the individual, familial, and extra-familial levels. Variables were entered into three blocks. Block 1 contained the individual level variables (sex, age, self-esteem, attitude, and college aspiration). Family structure and parental education were entered next in Block 2. At the extra-familial level (Block 3), peer sexual activity was entered. The three regression models were significant at each of the three levels. The predictors in model 1 accounted for 46% of the variance in sexual activity when variables in model 2 were entered the model's explanatory power slightly increased to 50% of the variance and when model 3 variables were included the explanatory power of the model considerably improved and increased to 56%.
Ethical clearance was secured from the Addis Ababa University, School of Public Health and IRB of the Faculty of Medicine. Persons between 15 and 18 years in Ethiopia are regarded 'Consenting Minors' and can be interviewed without parental consent. Verbal informed consent was obtained from each respondent after explaining the purpose of the study. Participants were assured that participation is voluntary, the information they provide will be kept completely anonymous and confidential. Students were also informed the possibility of opting out at any time if they feel to do so.
Results
A total of 3840 in school youth aged 15-24 were identified from 10 high schools. Of these 92.5% (3543) of students fully responded to the self administered questionnaire. There was no refusal, but 7.7% (297) of participants responded to less than a quarter of the questions. Thus, their responses were not included in the analysis.
Socio-demographic characteristics of the study population
Discussion
In this study the proportion of school youth engaged in oral and anal sex is considerable about 1 in 20 youth were involved in oral and anal sex practices. Moreover, a large proportion of youths involved in oral and anal sex were not taking appropriate protection measures such as consistent condom use. Reasons mentioned for having oral and anal sex included preventing pregnancy, preserving virginity, and reducing HIV and STIs transmission risks. All individual, parental, and peer level factors were associated with involvement in oral and anal sex.
The results of this study highlight several key issues that merit further consideration by practitioners, teachers, parents, the community and peer educators. Since youth sexual behavior is interrelated, intertwined and influenced by a multitude of factors, intervention should target the individual, family and peer determinants rather than focusing on isolated individual behaviors.
The major limitation of this study is the accuracy of self reported oral and anal sexual practices of respondents. As these sexual practices are considered taboo in Ethiopia there may be social desirability bias leading to under reporting. However, attempts were made to minimize this bias by using self-administered anonymous questionnaire and ensuring privacy during data collection. Despite this limitation, the large sample size and the representativeness of the sample make the findings of this study generalizable to similar population in large urban cities in Ethiopia.
Conclusion
The findings of this study indicated that a negligible number of students initiated oral and anal sex without their consent before their teen years. Students engaged in multiple partners' oral and anal sexual relationships without proper protection, and received gift for the exchange of oral and anal sex. The majority of whom who had oral and anal sex had future intention to have oral and anal sex in the next 6 months. The main reasons for involvement in oral and anal sex were prevention of pregnancy, minimize the risk of HIV, preserving virginity and reduction of STIs transmission. Favorable attitude about oral and anal sex, low college aspirations and low self esteem were individual level predictors of oral and anal sex. Living with both parents and maternal literacy were protective from oral and anal sex. Students who perceive their best friends engage in oral and anal sex were highly likely to involve in oral and anal sexual activity.
Therefore, future interventions should target the multilevel adolescent's sexual behavior and influences at individual, parental and peer levels. Interventions that aim to illuminate educational aspirations raise the self esteem of young people, and change attitudes towards safe sex practices should be in place. School sexual health education should cover the wider sexual experience and educate students about the risks associated with oral and anal sex and its prevention mechanisms. Further in-depth exploration is needed to explain the motivation behind oral and anal sex.
Acknowledgements
We want to express our heartfelt thanks to John Hopkins University for funding the study through the School of Public Health of Addis Ababa University. Authors would also greatly appreciate the study participants for their willingness to share their ideas and thoughts. The City Education Office and the officials of the study schools are acknowledged for their support during the conduct of the study.
This article is published under license to BioMed Central Ltd. This is an Open Access article distributed under the terms of the Creative Commons Attribution License (
http://​creativecommons.​org/​licenses/​by/​2.​0
), which permits unrestricted use, distribution, and reproduction in any medium, provided the original work is properly cited.
Competing interests
The authors declare that they have no competing interests.
Authors' contributions
Both authors participated from the inception of the research idea to proposal development, data collection, analysis and preparation of the manuscript. All authors have read and approved the final manuscript.