01.12.2018 | Case report | Ausgabe 1/2018 Open Access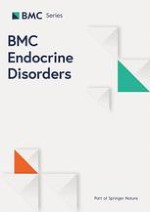 Orbital radiotherapy plus three-wall orbital decompression in a patient with rare ocular manifestations of thyroid eye disease: case report
Zeitschrift:
Autoren:

Shuo Zhang, Yang Wang, Sisi Zhong, Xingtong Liu, Yazhuo Huang, Sijie Fang, Ai Zhuang, Yinwei Li, Jing Sun, Huifang Zhou, Xianqun Fan
Abstract
Background
Thyroid eye disease (TED) is a debilitating autoimmune orbital disease that is often a result of Graves' disease. Dysthyroid optic neuropathy (DON) is a rare but sight-threatening manifestation of TED with therapeutic challenges that can potentially lead to visual loss.
Case presentation
A 74-year-old man experienced active TED with extremely severe redness and swelling of the conjunctiva, loss of visual acuity and exacerbation of disfiguring proptosis. Computed tomography revealed the involvement of extraocular muscles resulting in optic nerve compression. He was in poor general condition and was intolerant to steroids. To achieve the optimal operating conditions for orbital decompression surgery, the patient was initially treated with orbital radiotherapy. The patient responded well, with improvements in clinical activity score and visual acuity.
Conclusion
This case demonstrates a rare and severe case of DON with therapeutic challenges. To date, no cases has been reported of a patient with such severe and unusual ocular manifestations. Early awareness of the occurrence of optic nerve compression and prompt treatment are important to prevent irreversible outcomes. Orbital radiotherapy should be considered as a useful surgery-delaying alternative for DON, especially in patients who have contraindications to steroids.