01.12.2017 | Research article | Ausgabe 1/2017 Open Access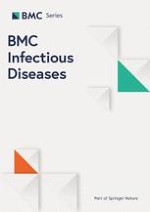 ORFeome-based identification of biomarkers for serodiagnosis of
Mycobacterium tuberculosis

latent infection
Zeitschrift:
Autoren:

Fangbin Zhou, Xindong Xu, Sijia Wu, Xiaobing Cui, Weiqing Pan
Wichtige Hinweise
Electronic supplementary material
Abstract
Background
The challenges posed by
Mycobacterium tuberculosis
infection require the gradual removal of the pool of latent tuberculosis infection (LTBI). The current cell-immune-based diagnostic tests used to identify LTBI individuals have several irreversible drawbacks. In the present study, we attempted to identify novel diagnostic antigens for LTBI.
Methods
A high-throughput glutathione S-transferase (GST)-fusion technology was used to express over 409 TB proteins and sera from LTBI and healthy individuals was used to interrogate these GST-TB fusion proteins.
Results
Of 409 TB proteins, sixty-three reacted seropositive and defined the immuno-ORFeome of latent
M. tuberculosis.
Within the immuno-ORFeome, the rare targets were predominantly latency-associated proteins and secreted proteins, while the preferentially recognized antigens tended to be transmembrane proteins. Six of novel highly-reactive antigens had the potential to distinguish LTBI from active TB and healthy individuals. A multiple-antigen combination set was selected through analysis of various combinations. A panel of 94 archived serum samples was used to validate the diagnostic performance of the multiple-antigen combination set, which had sensitivity of 66.1% (95% CI 52.9, 77.4) and specificity of 87.5% (95% CI 70.1, 95.1).
Conclusion
These results provide experimental evidence of the immunogenicity of novel TB proteins that are suitable for the development of serodiagnostic tools for LTBI.