01.12.2017 | Research | Ausgabe 1/2017 Open Access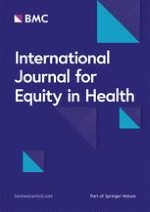 Organisational culture and trust as influences over the implementation of equity-oriented policy in two South African case study hospitals
Zeitschrift:
Autoren:

Ermin Erasmus, Lucy Gilson, Veloshnee Govender, Moremi Nkosi
Abbreviations
CVF
Competing values framework
LMICs
Low- and middle-income countries
NHI
National Health Insurance
OTI
Organisational trust inventory
PCHS
People-centered health systems
UHC
Universal Health Coverage
UPFS
Uniform Patient Fee Schedule
Background
Methods
Study design features
This research adopted a nested case study design, for two reasons. First, a case study is a way of inquiring empirically about a phenomenon in its "real-life" context when the context is expected to have a major impact on the phenomenon [
24
]. This was relevant as we sought to investigate the implementation of the UPFS and PRC as it unfolded in the "real worlds" of two hospitals, with the assumption that contextual software such as organisational culture and trust would have a major impact on the implementation process. Second, case studies are particularly suited to answering "how" and "why" questions [
24
], like ours: how were the UPFS and PRC policies implemented in practice in the case study hospitals, and why did implementation processes play out in these particular ways?
The primary case study unit was "the experience of implementing an equity-oriented health policy" and this was nested within the context of a case study hospital. Table
1
provides an overview of the two policies of focus. They were selected because they addressed different equity concerns and were quite different in nature. Our assumption was that these differences would illuminate the challenges faced in implementing equity-oriented policies, which seek to challenge the status quo, and would, more specifically, help to uncover values and exercises of power in implementation.
Table 1
Overview of the policies of focus
Uniform Patient Fee Schedule
After national-level approval, the UPFS was implemented across provinces in 2001/2. It sought to ensure the uniform billing of public hospital patients and stipulated that certain services, for example primary care and services to pregnant women and children younger than 6 years, were free of charge to all or almost all (members of health insurance schemes were, for example, excluded from certain free services). Other services were charged according to the patient's income sources and levels and, where applicable, other factors such as health insurance membership and non-South African citizenship. Patients were classified as H0 (fully subsidised), H1 (highly subsidised), H2 (moderately subsidised), and H3 (full public sector rate) [
46
].
For exemptions and patient classification, H1 was the default category for a patient without sufficient proof of income. Providing documents from other government agencies, for example a card to prove receipt of a social grant or income from the Unemployment Insurance Fund (formal unemployment), would result in a move to H0.
For other patients, especially the self-employed and those not regarded as formally unemployed, classification or exemption could involve making sworn statements at police stations to "prove" their unemployment (although this was not accepted by all facilities), completing an income and expenditure form, and providing proof of bills such as utility accounts that might shed light on their financial position.
Patients Rights Charter
The PRC, launched in the late 1990s, outlined to patients and health workers the common standards of service and behaviour expected. It was partly intended to rebalance the patient-health system relationship and to bring healthcare provision in line with South Africa's new constitution, given that during the apartheid era "the vast majority of the South African population has experienced either a denial or violation of fundamental human rights, including rights to health care services" [
47
]. The PRC contained rights such as refusal of treatment, confidentiality and privacy, and a healthy and safe environment, which were balanced by responsibilities such as complying with prescribed treatment, taking care of health records, and respecting the rights of other patients and health workers.
The UPFS' graduated fee levels and exemptions spoke to financial equity and access, while the PRC strove for acceptable care, equity through patient empowerment and the dignified treatment of all patients. The UPFS quite clearly delineated its key features and implementation requirements, but the PRC was much more open to interpretation in how it would be implemented. How can the right to confidentiality and privacy be protected when the layout of consulting rooms is not ideal? Given long travelling distances and health worker shortages, how can the right to a second opinion be effected? How can apparently competing issues, such as the right to refuse treatment and the responsibility to comply with prescribed treatment, be balanced? In practice, the PRC was commonly implemented through activities such as the distribution of pamphlets and posters, staff training, patient suggestion boxes, and providing staff with nametags. However, because rights and responsibilities must commonly be given practical effect in the patient-provider interaction, implementing the the PRC was always reliant on frontline workers' discretion.
The two case study hospitals were, finally, selected to be relatively well-functioning as judged by local area managers, on the assumption that this approach would be conducive to drawing out positive implementation lessons. To limit the range of variation that might explain any differences in implementation experience, they were also similar in other dimensions - both were district hospitals, located in largely rural areas serving populations of relatively low socio- economic status. However, they were located in different provinces as dictated by the research institutes' locations (full hospital details provided in the results section).
Data collection: Approach and tools
Data collection was conducted in two phases each of around 2 months at the end of 2006 and then again the beginning of 2007; with a short break in-between for initial data analysis, debriefing, reflection, and further planning. The duration and intensity of the data collection, as well as the different tools used enabled rich insight into the research settings, as is needed in case study research. The short break between research phases also sought to reduce the burden on study participants.
As is common in case study work, mixed methods were used to examine UPFS and PRC implementation and assess organisational culture and organisational trust within the case study hospitals.
Qualitative data
Phase 1 included initial narrative interviews with a range of managers inside and outside the hospitals, as well as hospital staff, to understand key role-players and their descriptions of policy implementation processes; relationship mapping interviews within the hospitals to identify policy implementation networks and explore relationships across levels of the implementation chain; and observations of policy implementation, organisational functioning, staff interactions and patient-provider interactions within hospitals (Table
2
). The observations continued in phase 2 and were supplemented by interviews with hospital board members and patients to gather insights into the experiences of additional stakeholders, as well as follow-up interviews with health workers and hospital managers to explore their perspectives on provider-patient relations and pick up on issues from the initial narrative interviews (Table
2
).
Table 2
Qualitative interviews and respondents
Method

Respondents

Number of respondents

Hospital A

Hospital B

Initial narrative interviews

Provincial and regional managers, clinical and non-clinical hospital staff, hospital managers

47

27

Relationship mapping interviews

Hospital managers, clinical and non-clinical hospital staff

13

7

Further in-depth interviews (1)

Hospital board members, patients, district and provincial managers

25

28

Further in-depth interviews (2)

Hospital managers, clinical and non-clinical hospital staff

30

18
The key informants were purposively sampled, driven by the positions they occupied and the functions they fulfilled (giving different perspectives on the processes and questions the research sought to explore). One of the authors (MN) was primarily responsible for the interviews in Hospital A, while another (VG) was responsible for those in Hospital B, and both worked with a fieldworker. Most of the interviews, which generally lasted about an hour, were conducted in English, although the fieldworkers were able to conduct interviews in other languages, such as Afrikaans, Setswana and isiXhosa, if needed. The interviews were as far as possible recorded and transcribed (and translated into English if necessary). Where respondents did not want to be recorded, detailed interview notes were taken.
Quantitative data
Two structured self-assessment questionnaire surveys were also conducted, once we had built trust with hospital staff, to examine organisational culture and organisational trust, specifically (see Table
3
). The questionnaires were widely distributed across the hospitals, participation was voluntary and anonymous and the intention was to get responses from as many staff members from different staff cadres as possible. We judged that, as a self-assessment questionnaire survey, the response rates were sufficient to provide a fair picture of the key trust and culture dynamics in the hospitals, especially in combination with the qualitative data. However, a higher response rate would have increased confidence in the quantitative results.
Table 3
Structured surveys and respondents
Method

Respondents

Number of respondents (response rate)

Hospital A: 481 staff

Hospital B: 193 staff

Organisational trust survey

Sample of all hospital staff

185 (38%)

92 (48%)

Organisational culture survey

Sample of all hospital staff

155 (32%)

77 (40%)
Based on the competing values framework (CVF) [
25
], the first survey examined the hospitals' organisational culture. The CVF was initially derived from review of the organisational effectiveness literature [
26
], has been used in healthcare settings [
27
–
29
] and some work has been done to validate the related research instruments [
30
]. Considering these factors, our judgement was that it described general and recognisable organisational approaches and dilemmas that would be relevant in helping us understand the working of the South African case study hospitals.
The CVF proposes three value dimensions that combine into four organisational models, originally described as the human relations, open system, internal process and rational goal models [
25
], and subsequently labelled as clan, developmental, hierarchical and rational models [
31
-
33
], as illustrated in Fig.
1
. The horizontal axis ranges from an internal focus that emphasises integration and the well-being of organisational members, to an external focus, more concerned with competitiveness, the well-being of the organisation itself and differentiation from other organisations; whilst the vertical axis ranges from organisational valuing of spontaneity, flexibility and individuality, to valuing order, control and stability. Third, organisations emphasise different means and ends.
×
The second survey explored organisational trust through the short form of the organisational trust inventory (OTI) [
22
]. This tool stems from work that explored the impact of trust on organisational functioning [
19
], was systematically developed and validated, and is intended to measure the trust between people within an organisation or between organisations. It consists of three sets of questions aimed at eliciting respondent views on managerial behaviours in terms of keeping commitments, not taking excessive advantage, and negotiating honestly. We used this instrument to help us explore trust between managers and others within the hospitals.
Finally, we used
both
the CVF and OTI to deepen our understanding of these key dimensions of the case study settings and complement our qualitative data. Whilst we recognised that organisational culture and trust might themselves be related (e.g. an organisational culture might incorporate certain values about who can be trusted or might lead to certain trust dynamics), the competing values framework did not clearly incorporate organisational trust and we felt it important to examine it separately.
Data analysis
The organisational culture survey required respondents to allocate weights to the various workplace descriptions contained in each question, with each description corresponding to one of the cultural types. In analysing these data, we summed and averaged these weights across survey questions to develop a representation of the distribution of clan, developmental, hierarchical and rational cultures in each hospital. Analysis of the organisational trust survey, meanwhile, involved calculating the percentage agreement/disagreement with each of the survey questions. Here we present the results organised by negative and positive management behaviours as this succinctly represents our overall judgement of the main trust dynamics in the case study hospitals.
The research received ethics clearance from the universities of Cape Town and the Witwatersrand, and was also approved by the relevant provincial health departments and hospital authorities prior to the study's commencement.
Results
Discussion
However, this research suggests that such "software" is not by definition positive or negative in terms of policy implementation outcomes, including equity, and that these outcomes depend on the contexts and policies in relation to which it is activated. Hospital A and B, for example, were generally well-performing and treated patients well, suggesting a degree of positive, normative people-centeredness in service delivery. Yet, as illustrated by Hospital B and the PRC, the "software" did not fit all policies equally well and left space for managerial resistance to policy implementation. Even where the factors were more supportive, for example the more trusting environment of Hospital A with its positive exercise of managerial power and explicit PRC implementation, there was only a grudging staff acceptance of the policy and negative discourse about patients and how they dealt with their rights and responsibilities, linked to providers' own understandings of their status and proper behaviour.
What, then, does this study suggest about how to think about managing policy implementation in South Africa and elsewhere? Our work affirms Sheikh et al.'s conclusion: "When we see systems as social institutions primarily defined by the people who constitute them and their human relationships, the ways of bringing about change in health systems go beyond altering written rules and distributing resources, and extend to managing these chains of relationships effectively" [1: ii3].
Third, managers must always recognise, and act on, the broader workplace culture created by their actions, in terms of factors like levels of organisational trust, participative management and consultation with staff members. These factors might impact specific policies through staff buy-in or resistance, but are also always important to, for example, the legitimacy of managerial action to support any policy's implementation.
Conclusions
Using the conceptual lenses of organisational trust, organisational culture and power to investigate policy implementation, we have highlighted the essential people-centeredness of health systems and the related importance of "software". This people-centeredness transformed two apparently very similar hospitals into quite different implementation settings.
Achieving equity in practice in South Africa and elsewhere, therefore, requires managers to take account of how an equity-oriented policy might interact with the rich organisational context of its implementation. Such awareness, and associated implementation tasks such as relationship management and the negotiation of values, might be especially important for policies such as the PRC, which can be interpreted as a direct challenge to health workers' status and values. Achieving equity and people-centered health systems also requires careful attention to how policies are practically framed and translated into practice, with the UPFS providing an example of how the policy itself, its understandings and organisational context can encourage lop-sided implementation.
Acknowledgements
Thank you to all the research participants. They gave their time generously and opened up their work lives to help us understand the nature and functioning of their hospitals and their approaches to implementing the PRC and UPFS.
Funding
This work was originally funded by the Consortium for Research on Equitable Health Systems (CREHS), a research consortium funded by the UK's Department for International Development. The final paper writing was supported within the framework of the Collaboration for Health Systems Analysis and Innovation (CHESAI), funded by the International Development and Reserch Centre, Canada.
Availability of data and materials
The data generated during this study are not available to third parties. When participants consented to participate in the research, we undertook that only the core research team would have access to the data. Making the data available would also compromise the anonymity of the case study hospitals.
Ethics approval and consent to participate
Approval was obtained from the relevant committees of the University of Cape Town and University of the Witwatersrand, permission was sought from the provincial departments of health, and the researchers engaged the management of the case study hospitals before starting the data collection. Respondents were informed that they could refuse to participate in the study and that they would suffer no harm as a result such a refusal.
Consent for publication
Not applicable.
Competing interests
The authors declare that they have no competing interests.
Publisher's Note
Springer Nature remains neutral with regard to jurisdictional claims in published maps and institutional affiliations.
Open Access
This article is distributed under the terms of the Creative Commons Attribution 4.0 International License (
http://​creativecommons.​org/​licenses/​by/​4.​0/​
), which permits unrestricted use, distribution, and reproduction in any medium, provided you give appropriate credit to the original author(s) and the source, provide a link to the Creative Commons license, and indicate if changes were made. The Creative Commons Public Domain Dedication waiver (
http://​creativecommons.​org/​publicdomain/​zero/​1.​0/​
) applies to the data made available in this article, unless otherwise stated.