01.12.2017 | Systematic review | Ausgabe 1/2017 Open Access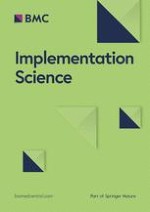 Organizational participatory research: a systematic mixed studies review exposing its extra benefits and the key factors associated with them
Zeitschrift:
Autoren:

Paula L. Bush, Pierre Pluye, Christine Loignon, Vera Granikov, Michael T. Wright, Jean-François Pelletier, Gillian Bartlett-Esquilant, Ann C. Macaulay, Jeannie Haggerty, Sharon Parry, Carol Repchinsky
Wichtige Hinweise
Electronic supplementary material
Abbreviations
CIET-PRAM
Participatory Research at McGill
CIHR
Canadian Institutes for Health Research
OPR
Organizational participatory research
Background
Methodology and methods
Systematic mixed studies reviews are an emerging form of literature review that use mainly textual data to combine qualitative and quantitative evidence extracted from qualitative, quantitative and mixed methods studies [
27
,
28
], and can provide a highly practical understanding of complex health interventions and programs [
23
,
29
–
31
]. In this review, we synthesized qualitative and quantitative evidence to test the hypothesis that the likelihood a co-construction type OPR study yields extra benefits is greater than for studies using consultation type OPR, and that five other variables are influencing factors (Table
2
). Our synthesis design combined quantitative content analysis method and a multivariate logistic regression.
Table 2
List of variables for multivariate analysis
Variables

Rationale

Values

Dependent variable

 Extra benefit (yes/no) (raw kappa c = 0.506 a

Extra benefits offer possibilities for increasing understanding and action [

48

]

Present/absent (1/0)

Independent variables

 Participation of non-academic partners (raw kappa c = 0.590 b

Co-construction type participation of at least one non-academic partner group (i.e., nurses, staff, physicians, patients, etc.) will yield more extra benefits [

3

]

Co-construction/consultation (1/0)

 OPR initiation (researchers/organization) (raw kappa = 0.534 b

OPR initiated by the organization members will yield more extra benefits

Organization/Academic or joint (1/0)

 Number of non-academic groups (i.e., nurses, therapists, physicians, patients, etc.) who participate in the research

A greater number of participant groups will increase the potential for unanticipated advantages [

3

]

Number of groups (n)

 Participation of management

Participation of management will yield more extra benefits

Present/absent (1/0)

 Duration of the study

More than 1 year/1 year or less (1/0)

 Date of publication

Studies published subsequent to the Waterman et al. [

3

] (2001) systematic review will exhibit more extra benefits

2005 or later/before 2005 (1/0)
To help ensure our work is relevant to health organizations, we used a participatory approach, partnering with managers from a variety of health organizations (Table
3
) to define our research objectives, refine our data collection and analysis, and interpret and disseminate findings. Below we present our methods in line with the PRISMA statement [
32
]. As per PROSPERO inclusion criteria, this review is not registered.
Table 3
Members of the research team
Core group

 Paula L Bush, PhD

 Pierre Pluye, MD, PhD

 Christine Loignon, PhD

Department of Family Medicine, University of Sherbrooke

 Ann C Macaulay, CM MD FCPC FRCPC (Hon) CAHS

Organization partners

 Sharon Parry, BSc

Director of a local YMCA, a charitable organization dedicated to the wellbeing of individuals and communities

 Jean-François Pelletier, PhD

Director of the "

Comité de l'expertise patient-partenaire de Hôpital Louis-H. Lafontaine

"

,

an hospital-based committee including patients as partners and experts in mental health

 Carol Repchinsky, BSc

Editor, Canadian Pharmacists Association (CPhA), a national organization of individual pharmacists supported by its business of publishing high quality drug and therapeutic information for healthcare professionals

 Jeannie Haggerty, PhD

Director the McGill University Practice Based Research Network

Co-investigators

 Michael T. Wright, PhD LICSW MS

 Gillian Bartlett-Esquillant, PhD

Department of Family Medicine, McGill University

Health librarian

 Vera Granikov, MLIS

Research embedded health librarian; Department of Family Medicine, McGill University,
Eligibility criteria
In line with the literature on systematic mixed studies reviews [
28
], we collected all types of evidence to better understand OPR and included original qualitative, or quantitative, or mixed methods empirical research. Eligible studies were reported in English or in French, health related, and conducted within a health organization using an OPR approach (either co-construction or consultation). Also, given our focus on the extra benefits of OPR, it was necessary that our included studies reported outcomes. Thus, to be eligible, studies had to report a practice change initiative authors had implemented, or attempted to implement (e.g., a revised healthcare procedure). Through an iterative process of criteria development, testing, and modification by the core team (Table
3
), consultation with organization partners and co-researchers, and modification and further testing, we developed and refined our criteria definitions. Because of their complexity, some eligibility criteria could only be assessed with the full text; thus, there are additional selection (full text) criteria compared to those used at the identification stage (titles/abstracts) (Tables
4
and
5
and Additional file
1
). Given that no one term is used to refer to OPR, the description of the research approach was used to determine eligibility for the OPR criterion, rather than the label used.
Table 4
Six identification criteria
Identification criteria (title and abstract)
1. The reference is in French or English
2. The reference reports an empirical research study (i.e., an original qualitative, or quantitative, or mixed methods study)
3. The reference concerns health-related research (i.e., deals with a health issue or health professional/organization development)
4. The reference concerns research with (or within) a health organization
5. The paper reports non-academics partnering with academic researchers in the research process in either consultation or co-construction manner
6. The reference reports a study about practice change
Table 5
Nine selection criteria
Selection criteria (full text paper)
1. The full text paper is available
2. The full text paper is written in English or French
3. The paper reports empirical research (i.e., an original qualitative, or quantitative, or mixed methods study)
4. The study concerns health-related research (i.e., deals with a health issue or health professional/organizational development)
5. The study concerns research with (or within) a health organization
6. The paper reports non-academics partnering with academic researchers in the research process in either consultation or co-construction manner
7. The paper reports a study where OPR is the collaborative change intervention
8. The paper reports OPR-related outcomes
9. The study includes sufficient description of the OPR process
Information sources and search strategy
To ensure we captured relevant studies for this review, we cast a wide net, using multiple terms for participatory research and for health organizations (Additional file
2
). Terms were informed from 39 studies identified as relevant to the review during preparatory work and also suggested by the research team members and the search strategy was developed by two health librarians experienced in searching for systematic reviews, and peer reviewed by three other specialized librarians. Moreover, the strategy was tested to ensure it captured the studies identified as relevant during preparatory work. The following databases were searched: MEDLINE including In-Process & Other Non-Indexed Citations (1946 to November 28 2012, searched using the PubMed interface), CINAHL (1981 to November 29 2012, searched using the EBSCOhost interface), Embase Classic + Embase (1947 to November 28, 2012, searched using the Ovid interface), PsycINFO (1987 to November Week 3 2012, searched using the Ovid interface), the Cochrane Library (1997 to November 29 2012), Social Work Abstracts (1968 to September 2012, searched using the Ovid interface) and Business Source Complete (1886 to November 29 2012, searched using the EBSCOhost interface). The search strategy for MEDLINE is presented in Additional file
2
. Strategies for other databases are available upon request. We also searched for additional studies, theses, and conference proceedings in ProQuest Dissertations & Theses (Full Text: Health & Medicine) database, The New York Academy of Medicine – Gray Literature Report, OpenGrey, and Google. In total, 13,837 records were identified through the database search and exported to an EndNote database where duplicate references were removed. An additional 150 records were identified through forward citation tracking conducted up to June 2014. The majority of duplicates were removed using Endnote Bibliographic software. Duplicates that remained were identified and removed during the selection phase. A total of 8873 unique records were included for screening.
Selection processes
To reduce the possibility of discarding relevant studies, we followed conventional guidance for systematic reviews [
28
]. Two independent reviewers (VG & PLB) began reading titles and abstracts in December 2012, coding each identification criterion as "1" for "yes," "0," for "no," and "2" for "unsure." To determine agreement regarding studies to move to the next phase, these reviewers met to discuss divergent codes. In instances where one reviewer had coded "unsure," we used the inclusion/exclusion code of the other reviewer. When both reviewers were unsure, the abstract was moved to the next (full text) stage. When reviewers disagreed, discussions pertained to the codes, more so than to the abstracts.
The same two reviewers (VG & PLB) read the full text papers, coded the selection criteria and included papers, or discussed and resolved disagreements in the same manner as for the previous stage. It should be noted that at this stage, the two reviewers scrutinized full text papers to code them for the participation variable: "0" for no participation, "1" for consultation type participation, "2" for co-construction type participation, or "3" for unclear/unsure. Only studies reporting participation in such a way that they could be categorized as "consultation" or "co-construction" were included.
Critical appraisal of included studies
Quality appraisal is a core component of systematic reviews [
33
]. Given our sample included qualitative, quantitative, and mixed methods studies, we used the
Mixed Methods Appraisal Tool
, which has been content validated and tested for reliability [
28
,
34
]. Again, this phase was conducted by two independent reviewers (RQS and VK) with disagreements resolved by a third party. No studies were excluded based on their quality, but this appraisal is included in the textual description of each included study (Additional file
3
: Table S1).
Because we were not synthesizing the research outcomes reported by the authors, but rather outcomes the authors described as being associated with the participation processes, we also appraised studies according to the description of these processes. For each of the selected studies, one reviewer extracted all text passages describing either a research participation process, a research participation outcome, or a research participation process linked with a research participation outcome. Text passages were extracted from the papers in the order they appeared and copied into excel documents (one per study). All excel documents were reviewed by the first author to ensure accuracy of extracted text passages and their categorization as research participation-related processes and/or outcomes. Only studies with clearly linked process-outcome text passages were retained for the final sample of studies included in this review.
Data extraction and quantitative content analysis
We designed and piloted our data extraction forms (Additional file
4
) and two independent reviewers extracted data from all included studies. As per quantitative content analysis [
35
], data were assigned numerical codes (variable values). Data pertain to four study aspects: (a) descriptive data about the study (duration, health domain and year of publication); (b) descriptive data about the research partners (academic partners' fields of expertise, type and number of health organizations, type and number of organization partners including clinicians, managers and patients); (c) descriptive data about the initiation and type of participation; and (d) process and outcome text passages (as described above for appraisal phase). The quantitative data extracted for study aspects (a) and (b) were factual; to ensure accuracy, the lead author revised the numeric codes of the two independent reviewers and corrected discrepancies by returning to the full text papers. Data regarding the duration of the study or the different types of organization partners were missing for 65 (61%) of the included studies; thus, we sought to obtain the missing data directly from the authors. Unable to obtain author contact information for 13 (20%) studies, we emailed authors of 52 (80%) studies and received 26 (40%) responses (15 (23%) emails bounced back and 11 (17%) authors did not respond. With regard to study aspect (c), two independent reviewers coded full text articles and an inter-rater reliability score was calculated; then, reviewers discussed and corrected discrepancies by returning to the papers, and remaining disagreements were resolved by a third party. Regarding study aspect (d), for each included study, the process- and outcome-related text passages were extracted, into Excel, by one researcher and cross-checked by the lead author.
To generate the extra-benefits variable, two independent reviewers (RES & PLB) read each of the 107 abovementioned process-outcome Excel documents, and coded each extract for absence or presence of an extra benefit using a coding manual (code definitions and key examples). Then, an inter-rater reliability score was calculated. In mixed methods, this data transformation process is referred to as "quantitizing" [
28
,
36
,
37
]. In addition, two independent reviewers further coded the text passages according to types of extra benefits, which were developed using a content analysis technique (Table
6
) and a capacity building framework [
38
]. Table
7
presents our detailed definition of these "extra benefits."
Table 6
Quantitative content analysis
OPR systematic mixed studies review: 11-step coding process
1. Research team members asked to reach consensus on a codebook
2. Coders trained using a purposeful sample of documents (studies)
3. Codebook pilot tested using a random sample of 10% of documents
4. Codebook revised accordingly
5. Coding of all documents by two independent coders (assignment of excerpts of QUAL findings and QUAN results to codes using the codebook)
6. Disagreements between coders resolved by a third party
7. For each code, inter-coder agreement and reliability (kappa) score calculated
8. Preliminary findings discussed with research team members
9. Emerging categories discussed and creation of new codes when needed
10. All documents re-coded (steps 5 to 9) using new codes to increase consistency
11. Statistical analysis
Table 7
Definition of "extra benefits"
EXTRA BENEFITS
for the organization, staff and health professionals, patients, family, and/or caregivers, or the academic researchers.
Extra benefits are positive outcomes that
clearly
do not meet the specific participatory research project
change
objective(s).
• Outcomes are changes that occur as a result of the participatory research project. These changes may affect the university researchers, organization members, patients or family members/carers, or the organization as a whole.
• Outcomes of interest are those associated with the participatory process.
Regarding sustainability of outcomes:
• Should the change objective be met and authors indicate that this change was maintained, this is an
anticipated
outcome, not an "extra" benefit of the OPR process. (The assumption is that no change process would have been undertaken had the objective not been for the change to be permanent.)
• Should the change objective be met and then transferred to another department/organization, this is
an extra benefit
(unless transfer was part of the change objective).
• Should the change
process
be maintained (e.g., action research group decides to continue their monthly meetings; organization members decide to do additional research), this is
an extra benefit
(unless the change objective was to implement regular meetings or a research culture).
Regarding a change in the study focus:
• In some studies, the aim of the project changes during the initial stages of the participatory process. Such changes are expected in participatory research, thus, for our purposes, the new aim will be the one we use to determine if subsequent outcomes are
extra benefits
or not.
Synthesis
Quantitative analyses
Dependent variable
Extra benefits: Previous research suggests community-based participatory research projects exhibit a variety of positive, yet unanticipated, outcomes [
18
,
39
]. For example, Jagosh et al. [
18
] illustrated how participatory research generates systemic changes and new unanticipated projects and activity. Yet, the association between such extra benefits and the participatory research process has not been measured. Therefore, we chose to examine this relationship according to the absence or presence of extra benefits.
Statistical methods
The inter-rater reliability for the extraction and coding of three variables (Table
2
) was estimated using Cohen's Kappa statistic [
42
]. For two variables (presence/absence of extra-benefits and type of participation), there was an imbalance of rater categories (e.g., one rater used the "unsure" code while the other did not), we thus calculated the raw Kappa statistic and also that of various scenarios and report all kappa values, herein. The dependent and independent variables were summarized using descriptive statistics with counts and percentages. Bivariate statistics were calculated for each independent variable using chi-square test with reported
p
values with an alpha of 0.05 to indicate statistical significance between studies with extra benefits and those without. The impact of the independent variables (participation, study duration, research initiator, presence or absence of managers, publication before or after 2005, and number of organization partner types) on the outcome of presence or absence of extra benefits was modeled using multivariate logistic regression to calculated adjusted odds ratios with 95% confidence intervals. A restricted logistic regression analysis model was used to assess the impact of the independent variables on the types of extra benefits. All statistical analyses were conducted using Statistical Analysis System Institute Inc. Software (SAS 9.4, Cary, NC, USA).
Results
The search of the peer-reviewed and gray literature led to the retrieval of 8873 unique records. Based on our aforementioned eligibility criteria, we identified 992 potentially relevant articles, 140 of which we selected for further appraisal. At this stage, we excluded an additional 33 studies due to a lack of clear description of the link between participatory processes and outcomes. Owing to the fact that several studies are described across multiple publications, our final sample of 107 studies consists of 177 publications. The flow diagram is presented in Fig.
1
. The raw kappa values for the extra benefits, participation, and research initiator variables were 0.506, 0.590, and 0.534, respectively. These coefficients all indicate moderate agreement [
42
].
×
Most (
n
= 83; 77.6%) of the included studies represent co-construction type participation in research decisions. Nurses were the organization members most commonly involved as research partners (
n
= 77 studies; 30.7%). Other partners included physicians (
n
= 31; 12.4%), support staff (
n
= 13; 5.2%), and managers (
n
= 35; 13.9%). Many studies (
n
= 22; 20.6%) included more than one type of organizational member. The means and standard deviations for number of organization groups in the studies with no extra benefit or one or more extra benefits were 2.4(1.8) and 2.2(1.6) respectively (
p
= 0.66). Patients and their family or caregivers were research partners in only 15 (13.6%) and eight (7.3%) studies, respectively (Additional file
3
: Table S1). We were able to determine the project duration for 89 studies. Among these, equivalent proportions of co-construction and consultation studies lasted 1 year or longer (65.3%; 47/72 and 64.7%; 11/17 respectively). No significant association was found between project duration and presence of extra benefits (Table
8
).
Table 8
The association between extra benefits and independent factors
0 extra benefits

≥ 1 extra benefit

Total

Type of organization member participation

 Co-construction

25 (23)

58 (54)

83 (78)

0.15

 Consultation

11 (10)

13 (12)

24 (22)

Manager in team

 Yes

9 (8)

24 (22)

33 (31)

0.36

 No

27 (25)

47 (44)

74 (69)

Published

 In 2004 or earlier

13 (12)

26 (24)

39 (36)

0.96

 In 2005 or later

23 (22)

45 (42)

68 (64)

Initiated by organization

 Yes

4 (4)

23 (22)

27 (26)

0.02*

 No

32 (30)

48 (44)

79 (74)

Duration

 Shorter than 1 year

12 (11)

19 (18)

31 (29)

0.48

 One year or longer

24 (22)

52 (49)

76 (71)
Regarding the settings, nearly two thirds of studies took place in hospitals or hospital wards (
n
= 66; 61.7%). Other settings include nursing homes, primary care clinics, specialized treatment facilities, pharmacies, and community health centers. For the most part, this type of research has been conducted in the UK (
n
= 38; 35.5%), Australia (
n
= 22; 20.6%), and the USA (
n
= 14; 13.1%). The majority of the included studies used only qualitative methods (
n
= 89; 83.2). Quantitative and mixed methods were used in four (3.7%) and 14 (13.1%) studies, respectively. Additional file
3
: Table S1 presents the full description of all studies in the review sample.
Two thirds (
n
= 70; 65.4%) of included studies reported at least one extra benefit of OPR. The only variable in the model that was significantly associated with extra benefits was the study initiation variable (Table
8
). Contrary to our hypothesis, the logistic regression revealed no difference between the type of organization members' participation (co-construction vs. consultation) and the likelihood of exhibiting an extra benefit. However, analyses revealed that the likelihood of a co-construction or a consultation study exhibiting at least one extra benefit is quadrupled when the impetus for the study comes from the organization, as opposed to the university researcher, or the organization and the university researcher together (OR = 4.11, CI = 1.12–14.01; Table
9
).
Table 9
Odds ratio (OR) estimates for at least one extra benefit
| Effect | OR | 95% confidence limits |
| --- | --- | --- |
| Co-construction compared to consultation | 1.99 | 0.75–5.33 |
| Project duration ≤ 1 year compared to > 1 year | 1.40 | 0.55–3.54 |
| Project initiated by organization compared to academic or joint initiation | 4.11 | 1.21–14.01 |
| Management was part of the team compared to no management | 1.79 | 0.62–5.14 |
| Article published in or after 2005 compared to published before 2005 | 2.15 | 0.73–6.34 |
| Number of types of organizations groups involved | 0.91 | 0.69–1.20 |
The sub-analysis defined five broad types of extra benefits. First, organization members exhibited leadership development or improvement (specifically, autonomy and confidence) exemplified in such things as empowerment/emancipation; becoming aware of skills, knowledge, and/or power; feeling ownership; advocacy; and confidence in role, skills, and/or power. Second, general workforce development was observed in terms of (a) reflective practice (e.g., improved understanding of the rationale behind certain tasks; more creative or critical evaluation of practice; increased awareness of patient needs), (b) development and/or use of new skills or tools (e.g., professional, problem solving, and/or research skills), (c) personal development (e.g., enroll in graduate school, job promotion), (d) positive changes in relations with service users (e.g., more patient centered care, learning from service users); and (e) new understandings about workplace, conditions that shape practice, and contributions of colleagues. Third, group benefits were observed in the form of improved collaborations, relations and communication among organization members, as well as staff learning from one another. Fourth, broad systemic developments or changes were observed. For example, the intended practice changes often extended beyond the target setting (e.g., transferred from the initial hospital ward to the whole hospital) or beyond the intended time frame (e.g., researchers and organization members continue to work together on subsequent OPR projects). Finally, in some studies, extra benefits were noted for the university and/or service user partners. Table
10
presents the distribution of extra benefits observed, together with specific examples from included studies. Figure
2
illustrates the distribution according to mode of participation. It is noteworthy that the majority of studies with two to four types of extra benefits are co-construction (32/36; 88.9%), whereas the majority of studies with one type of extra benefit represent consultation type participation (23/34; 67.6%). Owing to small sample sizes, no further analysis was possible.
Table 10
Number of studies exhibiting each of the five types of extra benefits, with examples
Type of extra benefit (number of studies)

Example (text excerpts from included studies)

Leadership (21)

For some, the process led to a greater confidence ("We do not sit back so much anymore. We speak up") and more assertiveness ("People were starting to play with in a little bit -- try it out and feel that they had the backing"). This led to:

Greater clarity in what everyone needs, "I need time to think about that." "I need to have it written down to understand it," "I need to see a picture" … "I need attention." Which helps me very much; then it is easier for me to say, "This is what I need. This is what's helpful."

One person noted that the group on occasion may not have listened enough to one member who would have preferred a different approach, and it might have helped to inquire about "commitment" or take a "look at alternatives." [

51

]

General workforce development (41)

a Co-researchers felt able to share their ideas, the gaps in their knowledge, and recognized the importance of time for thinking and reflecting on nursing research and practice [

52

]

b By allowing the client group to fully participate in the change process, new skills have been developed. These skills include team problem identification, decision making, cooperation, and in some cases leadership. With the collaborative climate being reinforced, members of the client group appear willing to take more risks in making suggestions, confronting issues, and encouraging and supporting others [

53

].

c Each of the co-researchers demonstrated ongoing positive and painful enlightenment through their own personal development and participation in the action learning sets [

54

].

d The members of the core group noticed a shift in their own way of thinking about patients, and in the actions of the expert patients. [

55

]

e … by having the opportunity to share experiences from practice, the FARG members became more familiar with the contributions their colleagues, from other occupational groups, made to resident care. For example, an enrolled nurse member reported that as a consequence of her participation in the group she had "a bit more of an understanding about what each [staff] area gets up to [and] what challenges they have." Similarly, another enrolled nurse member reflected on her new understanding of the different contributions that other staff members make to the care of residents when she noted, "It's certainly opened my eyes a lot." [

52

]

Group benefits (27)

The single most important indicator of full achievement of outcomes was that the work group members developed mutually supportive and trusting relationships between themselves and with the facilitator. [

56

]

Data from the participants indicated an overall positive response towards action research methodology. Positive aspects of participation in the CBAR as identified by the nurses were: A feeling of teamwork; Recognition of the value of participant's knowledge and experiences [

57

].

Towards the end of the study the health professionals from both practices reported being much clearer about the nature of prediabetes and the associated risks, and placed more importance on acting systematically as a team to address the problem. [

58

]

Having more meetings in itself was not enough. The nature of the communication and type of interaction was also important. People engaged with each other in a manner that was respectful, appreciative, built trust and included social bonding. Doctors and nurses often embarked on real relationships for the first time [

59

]

Broad systemic developments or changes (29)

The DSU nurses were able to focus activities directly related to the needs of the patients undergoing complex day surgery. Most significantly, the team members took responsibility for decisions made regarding changes and the outcomes. As a result of the opportunity to communicate openly with others, in addition to the team's ability to think and discuss their work critically, their practice became more effective, safer for patients and patient centered. These changes were apparent to others, and provided a model of enablement that is now used elsewhere in the organization [

60

].

The broad impact of the program has been confirmed by trainees from other Middle Eastern countries, who stated that they would now have the knowledge and skills to help children in pain when they returned to their home hospitals [

61

].

The next step for these NCs is to further develop the research aspects of their roles. For some, this may mean handing over of part of clinical and consultancy work to create "space" for effective research. For others, it means doing other aspects of the role differently to make research happen. Their influence continues to extend beyond the organization to influence national and international healthcare agendas [

62

].

There was also evidence at both teams that the changes that had occurred were part of a process that would not now easily be reversed. On the contrary, they were part of an ongoing process that now had increased momentum within the teams and their wider organizations [

63

].

University partners' capacity (6)

With regard to my own empowerment I found the experience of collaboration, reflection and discussion with other participants enhanced my self-awareness, increased my appreciation for and understanding of other participants and brought me marginally closer to being able to achieve the "interpersonal elegance" for which I was striving [

64

].

Finally, in terms of my own work, I have just been invited to engage in a two–year practice development partnership with a new mental health occupational therapy Trust. The plan we have negotiated is to implement a similar process as used within this study across a much larger service. This will provide an opportunity to further test and refine the approaches and conceptual frameworks developed during this inquiry [

65

].
×
Discussion
Limitations
Our results are based on what authors reported in their research publications, and our data of interest were not the research findings, but rather authors descriptions and reflections on the OPR processes they used and OPR outcomes observed. There are, thus, some limitations inherent in our study design. First, our study design assumes no extra benefit was experienced if none was reported; however, this is not necessarily true given extra benefits, as we have defined them, were not the focus of the included studies. Moreover, given the cyclical and iterative nature of OPR, intermediate, or more proximal, extra benefits may occur (e.g., improved staff relations) that may contribute to achieving the study objective. It can be difficult for stakeholders to separate interdependent benefits from each and to attribute the various changes and learnings that occur, or actions that are taken during the research to the OPR processes themselves. We sought to overcome the limitations of what is reported in studies by using a rigorous quantitative content analysis approach to define extra benefits and identify them in the included studies. Furthermore, while it is possible that some eligible studies were not picked up with our search strategy, or lost during the selection processes, the large sample size lends strength to our results.
Second, although the dichotomy of participation we used does not fully capture the nature of stakeholders' participation throughout an OPR, it did allow us to compare two distinct levels of organization member participation. Such a comparison is otherwise impossible given it is not feasible to, experimentally, compare OPR with non-participatory forms of organizational research. Additionally, a more nuanced analysis of participation was not feasible given that authors do not often describe the fluctuating level of participation of various partners throughout the research process [
3
,
24
]. Again, we used content analysis, excluding studies that did not clearly describe organization partners' participation, to attempt to overcome this reporting limitation and generate a reliable participation variable. Despite the moderate inter-rater agreement for the participation, extra benefits and study initiation variables, the fact that the likelihood a study yields at least extra benefits is quadrupled when the OPR is initiated by the organization indicates this relationship warrants further exploration. We suggest future OPR publications clarify non-academic partners' participation in the research decisions, that is, for each main research phase, describe whether organization members work actively and co-govern research
with
academic partners, or are consulted
by
academics (providing research input without research co-governance). We also suggest that publications clearly distinguish between decision-making in research-related processes vs. intervention-related processes. Clear descriptions of OPR processes and outcomes are required to improve knowledge regarding the added value of organization-university research partnerships.
Concluding remarks
While less resource-intensive means may be used to respond to organizational issues, this review focusses on the potential extra benefits of the OPR process, providing some insight into whether the investments in time and energy are worth it. We would like to acknowledge that merely quantifying extra benefits does not do justice to the richness of OPR. Indeed, stakeholders may judge the relevance of undertaking OPR by the quality and meaning of the benefits experienced. In the second phase of this work, we will use qualitative synthesis to generate a deeper understanding of the processes of OPR and the outcomes to which they contribute.
With this unique review, we have provided a framework for reporting and assessing OPR processes and outcomes, and have suggested potential key factors associated with extra benefits of OPR that can be tested in future research. We hope this contribution may influence organizations and academics alike to embark on satisfying OPR partnerships and to report their work in such a way that analyses of OPR processes and outcomes may be completed in the future to enhance our understanding of this research approach.
Acknowledgements
Many thanks go to the graduate students and research trainees of the Department of Family Medicine, McGill University who helped with data extraction, content analysis coding, data analyses, and quality appraisal: Reem El Sherif, Elena Godunova, Vladimir Khassanov, Soultana Macridis, and Rafaela Queiroga Souto.
Availability of data and materials
The datasets used and/or analyzed during the current study are available from the corresponding author on reasonable request.
Ethics approval and consent to participate
No ethical approval was needed for this systematic review.
Consent for publication
None needed.
Competing interests
The authors declare they have no competing interests.
Publisher's Note
Springer Nature remains neutral with regard to jurisdictional claims in published maps and institutional affiliations.
Open Access
This article is distributed under the terms of the Creative Commons Attribution 4.0 International License (
http://​creativecommons.​org/​licenses/​by/​4.​0/​
), which permits unrestricted use, distribution, and reproduction in any medium, provided you give appropriate credit to the original author(s) and the source, provide a link to the Creative Commons license, and indicate if changes were made. The Creative Commons Public Domain Dedication waiver (
http://​creativecommons.​org/​publicdomain/​zero/​1.​0/​
) applies to the data made available in this article, unless otherwise stated.