01.12.2017 | Debate | Ausgabe 1/2017 Open Access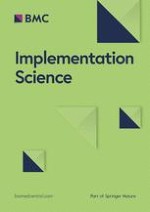 Organizational theory for dissemination and implementation research
Zeitschrift:
Autoren:

Sarah A. Birken, Alicia C. Bunger, Byron J. Powell, Kea Turner, Alecia S. Clary, Stacey L. Klaman, Yan Yu, Daniel J. Whitaker, Shannon R. Self, Whitney L. Rostad, Jenelle R. Shanley Chatham, M. Alexis Kirk, Christopher M. Shea, Emily Haines, Bryan J. Weiner
Abbreviations
BV-PIPS
Best Value-Performance Information Procurement System
CBO
Community-based organization
CFIR
Consolidated Framework for Implementation Research
EBI
Evidence-based intervention
ICT
Interagency collaborative team
NSTRC
National SafeCare Training and Research Center
RDT
Resource dependency theory
TCE
Transaction cost economics
Background
Organizational theories offer implementation researchers a host of existing, highly relevant, and heretofore largely untapped explanations of the complex interaction between organizations and their environment. Organizational theories describe, explain, and predict the complex interaction between organizations and their external environments. Thus, these theories have potential to explain and ground investigations focused on the role of policies, institutions, funding fluctuations, contract design, procurement processes, and workforce dynamics in implementation.
Discussion
Summary
This paper has demonstrated the application of four well-known organizational theories to retrospectively explain the implementation of SafeCare. More generally, this paper demonstrates the utility of organizational theory for explaining the influence of the complex interaction between organizations and their environment on implementation. Such explanations are largely lacking in extant implementation studies. There are a few notable exceptions. For example, studies have found institutional theory useful for explaining how an organization's external environment influences the integration of evidence into practice [
23
] and which intervention components are most likely to be sustained [
24
]. TCE has been used to explain how organizational networks form [
25
] and why organizations engaged in pay-for-performance may "game" the system, inflating performance scores to maximize payment [
26
]. Shortell used institutional theory and TCE theory to understand the development and evaluation of accountable care organizations [
27
]. Invoking organizational theory more frequently to explain the influence of organizations' interactions with their environment on implementation has the potential to advance knowledge in the field. For example, if transaction costs are found to influence organizations' approaches to implementation, then implementation research and strategies can be designed to account for transaction costs.
Prospective application of organizational theory to implementation research
Although most of this paper has addressed retrospective applications of organizational theory, organizational theories may also be used prospectively in implementation research. Table
2
displays applications of TCE, institutional theory, contingency theories, and RDT, as well as examples of hypothetical applications of these theories to SafeCare.
Table 2
Prospective application of organizational theory to SafeCare©
| Organizational theories | Prospective application | Hypothetical prospective application to SafeCare |
| --- | --- | --- |
| Transaction cost economics—explains how organizations decide whether to "make" a good or service internally or "buy" (i.e., acquire externally) a needed good or service. | Implementation may be outsourced if doing so is more efficient than implementing in-house. Implementation strategies should be selected to minimize transaction costs, which are positively associated with transaction frequency and uncertainty and asset specificity and likely negatively associated with implementation. | Bidding processes that minimize the frequency and uncertainty of the transactions required for SafeCare contracting will promote implementation by allowing organizations to commit resources to implementation instead of transaction costs. |
| Institutional theory—explains how organizations are motivated to align their structures and behaviors with the values, norms, and expectations espoused by institutions in their environments (e.g., government, client groups, accrediting bodies), as opposed to being primarily motivated by demonstrating superior outcomes or performance, to maintain legitimacy. | Implementation is likely to be influenced by coercive, normative, mimetic pressures from institutions within an organization's environment. Implementation strategies should seek congruence with the values, norms, and expectations of relevant institutions in the implementing organization's environment. | Staying attuned to the priorities of institutions in organizations' environments will promote SafeCare implementation directly (e.g., institutions advocating for SafeCare implementation) and indirectly (e.g., organizations perceive institutions as approving of SafeCare implementation). |
| Contingency theories —explain how organizations' actions are contingent upon an organization's internal and external contexts, which influence the organizations' structure and development. | Organizations' structure is a critical determinant of implementation, and organizations' structure continuously changes in response to dynamic internal and external contexts. Implementation strategies should be regularly revisited to address organizations' dynamic internal and external contexts. | Designing SafeCare explicitly for adaptation will promote implementation by allowing organizations to accommodate their unique and dynamic internal and external contexts. |
| Resource dependency theory—explains how organizations structure themselves and associate with each other in order to acquire and maintain autonomy and the resources necessary to survive. | Implementation will be impeded to the extent that it limits organizations' ability to acquire resources or maintain autonomy. Implementation strategies should address potential constraints of implementation on resource acquisition or autonomy. | Organizations will forge relationships to implement SafeCare insofar as doing so will yield resources that are worth more than the related decrease in autonomy. |
Broadly, TCE helps to anticipate whether innovations will be implemented in-house or if implementation will be outsourced, which is especially applicable for studying implementation of EBIs within the public sector, since public agencies are encouraged to outsource services to private contractors. TCE suggests that implementation strategies should seek to minimize transaction costs. For example, TCE suggests that electronic handoffs of patient information among providers, such as the transmission of survivorship care plans among providers via electronic health records, will promote implementation [
68
]. TCE may also be helpful for informing how public agencies and other service funders design their procurement processes and contracts for EBIs.
Institutional theory suggests that an organization will implement an innovation when it is in congruence with the values, norms, and expectations espoused by institutions in an organization's environment. Implementation strategies should either seek to influence the values, norms, and expectations of institutions within an organization's environment or adapt the innovation to converge with institutional values, norms, and expectations to the extent possible with minimal compromise of fidelity to the intent of the innovation. This may involve, for example, framing an innovation using language that is likely to be perceived as aligned with institutions' values, norms, and expectations.
Contingency theories suggest that implementation optimally involves adaptation to organizations' internal contexts (e.g., organizational capacity, mission and values, culture) and external contexts (e.g., patient needs, political environment, geographic locations) and to changes in those contexts over time. This suggests that innovations should be developed with a dynamic approach to implementation in mind. A common elements approach to implementation would potentially be most successful: implementing common techniques across EBI models would allow clinicians greater flexibility to meet diverse client needs and organizations more flexibility in training their workers [
69
,
70
]. To optimize intervention delivery, scholars have advocated for efforts to systematically adapt interventions to the varied and unique contexts in which they are disseminated [
71
]. Evidence regarding successful adaptation of promising interventions to a variety of settings continues to accumulate. For example, a diabetes care quality improvement initiative was originally successfully launched in an insured (health maintenance organization) setting and later adapted to meet the needs of federally qualified health centers [
72
].
RDT suggests that organizations will weigh the resources to be gained against the autonomy to be lost from innovation implementation. To the extent that organizations can use strategies to tip the balance in their favor, implementation may be more successful. This is the contention of the "systems" thinking/change perspective [
73
], which asserts that successful implementation is a function of the control key stakeholders have over resources. Empirical evidence supports this hypothesis. For example, autonomy was found to be a key determinant of the implementation of an intervention to promote effective pain management in older people [
74
].
Our paper has several limitations. First, the organizational theories that we have described in this paper themselves have limitations. Perrow critiqued TCE's neglect of power relations. Indeed, in some cases, organizational theories' propositions sometimes contradict each other [
75
]. For example, TCE may predict that an organization will fail to adopt an EBI due to excessive transaction costs, whereas institutional theory may predict that the organization will adopt the EBI to gain legitimacy, despite high transaction costs. Underlying these differences is divergence in the theories' paradigms. TCE, contingency theories, and RDT's paradigms are rooted in economics, which values rationality to explain organizational outcomes. In contrast, institutional theory takes a more sociological view and emphasizes the role of social forces, relationships, and norms in explaining organizational outcomes. Also, in contrast to frameworks, which are often intended to be comprehensive of determinants of implementation, theories tend to focus on a limited group of constructs about which specific causal relationships are proposed [
76
]. Further, in this paper, we have applied organizational theories to understanding macro-organizational relationships (i.e., relationships between organizations and their external environments). These theories may also be useful for understanding micro-organizational relationships, i.e., how factors within organizations (e.g., culture, climate, leadership) influence implementation. Theories in the field of organizational behavior may also be useful for understanding micro-organizational relationships. As an example, researchers have extended theories about organizational citizenship behavior to implementation science by developing an implementation citizenship behavior scale, which assesses employee behaviors that go beyond what is required to implement EBIs. Additionally, Aarons and colleagues have used leadership and strategic climate theories to derive an implementation leadership scale, allowing researchers to examine the impact of strategic leadership on organizational context for implementation. Health psychologists have increasingly applied behavior change theories to explain the behavior of individuals including providers and patients. For example, Karvinen et al. used the theory of planned behavior to understand exercise among endometrial cancer survivors [
77
]. Research that attempts to demonstrate causal relationships between determinants at multiple levels of the ecological framework and implementation may benefit from applying theories in several of these fields.
Second, in this paper, we have presented four organizational theories that may be useful in implementation research because they were particularly apt for explaining SafeCare's adoption, implementation, and sustainment. Other organizational theories that may be useful in implementation research include population ecology of organizations, agency theory, and exchange theory. For example, population ecology suggests that an organization's adaptive need for reliability and accountability to survive predisposes it to inertia and resistance to the change required to implement innovations [
78
]. Principal-agent and stewardship theories might be useful for investigating the influence of approaches for managing contractual relationship for implementation given the trend toward privatization and contracting in health and human services [
79
].
Third, in this paper, we apply organizational theory in a qualitative fashion; this diverges from the largely quantitative application of organizational theory in other areas of health services research (e.g., [
80
]). Our retrospective, qualitative application of organizational theory provides an explanation for SafeCare implementation; however, we do not test hypotheses derived from TCE, RDT, institutional theory, or contingency theories. In contrast, quantitative approaches or deliberately designed qualitative studies might be more conducive to testing hypotheses derived from the application of these four theories to implementation.
Despite these limitations, our paper has important implications for implementation strategies, the evaluation of implementation efforts, measurement, research design, theory, and practice.
Implementation strategies consist of practical approaches to promote EBI adoption, implementation, and sustainability [
81
]. Domains of implementation strategies include planning, education, financing, restructuring, quality management, and attending to the policy context [
82
]. Applying organizational theory to implementation strategies helps to explain why these strategies promote implementation and may promote more effective strategy selection. For example, TCE suggests that quality management may promote implementation by decreasing transaction costs associated with desired behaviors. TCE also encourages implementation practitioners to account for the transaction costs associated with a given strategy; the transaction costs associated with resource-intensive restructuring, for example, may outweigh its potential benefits to implementation. Institutional theory suggests that some strategies may have objective benefits to implementation as well as conferring legitimacy on the organization implementing the EBI. For example, the legitimacy associated with engaging in quality management, regardless of its objective benefits, may be sufficient to use such a strategy. Contingency theories suggest that strategies are not one-size-fits-all—organizations must select and tailor strategies to their internal and external contexts—a perspective that has been advocated to promote implementation strategies' effectiveness [
83
]. RDT suggests that some strategies may be successful in promoting implementation by maintaining a balance between autonomy and dependence on others. For example, education of staff may act as a mechanism for gaining autonomy from EBI experts. Organizational leaders may benefitting from select implementation strategies with a desired balance between autonomy and dependence on other organizations in mind.
Organizational theory also has implications for implementation evaluation. Increasingly, theory-driven evaluation (e.g., [
84
]), such as process analyses and N-of-1 trials, complement traditional randomized controlled trials of implementation outcomes by suggesting mechanisms underlying the relationship between an EBI and its outcomes [
85
]. Organizational theory suggests that transaction costs; needs for autonomy, resources, and legitimacy; and internal or external contexts may drive EBI outcomes. Drawing on organizational theories in implementation research will require development of measures such as institutional pressures (coercive, normative, and mimetic) [
46
,
47
]; resource complexity, availability, and stability that influence organizational dependence/autonomy (e.g., [
86
]); and the uncertainty, asset specificity, and transaction costs (e.g., [
87
]) associated with organizational "make vs. buy" decisions. These and other constructs characterizing the external organizational environment have been somewhat absent in prior implementation studies [
88
] and limited in the larger organizational literature as well [
87
] due to definitional ambiguity and imprecision [
89
]. Clear definitions to guide measurement development will be critical, as well as examination of the merits of using objective versus perceived measures of the context [
90
]. Although objective measures are generally preferred, organizational leaders make decisions based on how they perceive the context, and therefore, perceptual or self-report measures might also be valid [
91
]. Finally, scholars will need to carefully consider the unit of analysis, for instance, whether the institutional or resource environments can be captured via aggregated organizational reports.
Implementation researchers who use the lens of organizational theory will likely need to adjust their approach to design. Applying organizational theory often (but not exclusively, in the case of RDT, for example) implies analysis at the organizational level. Particularly for quantitative studies, such as experiments or quasi-experiments, recruiting a number of organizations to achieve sufficient power may be challenging. In contrast to studies at the provider or individual level, in which participants may be difficult to recruit but are plentiful, organizations both are often difficult to recruit and are scarce, relative to individuals. For observational, qualitative studies, relatively small numbers of organizations may be sufficient to achieve study objectives. However, organizational policies and the process of consenting an organization can make study recruitment challenging. For example, recruiting organizations requires an agent of the organization—typically a top leader—to consent on behalf of the organization; in many cases, organizational research requires the participation of employees whose responses are aggregated to the organizational level, and organizational consent does not imply employees' consent [
92
]. Research at the organizational level may also require longer study periods since organizational change, including success or failure outcomes, is often slow [
78
]. We recommend that implementation researchers who wish to incorporate organizational theory into their work collaborate with researchers who have expertise in organizational theory and research (often found in the fields of sociology, public administration, political science, and management). Implementation researchers who would like to apply organizational theory may find useful introductory texts on organizational theory [
16
,
93
] and conferences that feature studies that incorporate organizational theory, such as the Association for Research on Nonprofit Organizations and Voluntary Action [
94
], the Health Care Division of the Academy of Management [
95
], and the Organizational Theory in Health Care Association [
96
]. We also recommend that implementation research training programs, including doctoral programs and postdoctoral training programs such as the Training Institute on Dissemination and Implementation Research in Health and the Implementation Research Institute, incorporate formal training in organizational theory. Other fields' (e.g., public administration [
97
–
99
]) success incorporating organizational theory suggests that doing so is feasible. Indeed, establishing common ground in organizational theory may serve to promote collaborations with these fields, which are currently lacking [
100
].
Our paper also suggests implications for theory. Broadly speaking, organizational theories propose specific manifestations of organizations' efforts to survive [
78
]: To survive, organizations minimize costs; adhere to values, norms, and expectations of institutions within their environment; develop characteristics that differentiate them to compete with others; and acquire resources and autonomy. Organizations implement innovations to survive—to comply with accrediting bodies [
101
], to respond to changing patient needs [
102
], to offer appealing services in-house [
103
]. In this sense, implementation may be a determinant of organizational survival; to the extent that implementing an innovation does not promote survival, implementation is unlikely to occur. Additionally, examining the barriers to implementation offers an opportunity to investigate overlap across theories and to advance theories that specify and explain cross-level influences (e.g., influences that span across organizational environment, organizational behavior, and provider behavior).
Our paper also suggests that key organizational theories should be incorporated into implementation frameworks. Developers of the Consolidated Framework for Implementation Research (CFIR) did not draw upon the kinds of classic organizational theories that we advocate for implementation research, but the CFIR includes constructs that relate to some key organizational theory constructs [
12
]. For example, the CFIR's cosmopolitanism domain (i.e., the extent to which an organization is networked with others) suggests the importance of interagency relationships. RDT provides a rationale for including this construct: Organizations with stronger networks may facilitate implementation by increasing access to resources including information, influence, and funding [
62
]. Drawing on organizational theory, we can further specify and expand upon constructs included in implementation frameworks.
Finally, the application of organizational theories to implementation has practical implications. Organizational theories suggest that managers should be aware of influences from the external environment that may influence adoption, implementation, and sustainment. TCE, for example, suggests that having established relationships with external organizations that influence implementation may promote implementation success. Institutional theory suggests that gaining legitimacy—regardless of whether it improves performance—may drive adoption decisions. In some cases, the drive to gain legitimacy may undermine the objectives of an implementation effort; organizational leaders may superficially implement an EBI, without effecting change, to conform to institutional pressures. Contingency theories suggest that successful implementation will likely require adaptation of an intervention to the manager's unique organizational context. RDT suggests that threats to maintaining autonomy or resources represent threats to implementation and sustainment. Organizational theory also encourages a skepticism of practice trends. In response to practice trends, researchers often assess strategies for accommodating these trends. In contrast, organization theory can help to alert practitioners and researchers to potential negative consequences of practice trends. For example, institutional theory suggests that following practice trends may confer legitimacy but not necessarily performance improvement.
Conclusions
Organizational theories offer implementation researchers a host of existing, highly relevant, and heretofore largely untapped explanations of the complex interaction between organizations and their environment. Researchers and practitioners may benefit from the insights into implementation that organization theories offer.
Acknowledgements
None.
Funding
Ms. Clary's work on this manuscript was supported by the National Cancer Institute at the National Institutes of Health (R25CA116339).
Availability of data and materials
Data abstracted for this review as a supporting file.
Authors' contributions
All authors made significant contributions to the manuscript. All authors drafted and critically revised the manuscript for important intellectual content and have read and gave final approval of the version of the manuscript submitted for publication.
Competing interests
The authors declare that they have no competing interests.
Consent for publication
Individual data were not included in this study.
Ethics approval and consent to participate
Human subjects were not included in this study.
Publisher's Note
Springer Nature remains neutral with regard to jurisdictional claims in published maps and institutional affiliations.
Open Access
This article is distributed under the terms of the Creative Commons Attribution 4.0 International License (
http://​creativecommons.​org/​licenses/​by/​4.​0/​
), which permits unrestricted use, distribution, and reproduction in any medium, provided you give appropriate credit to the original author(s) and the source, provide a link to the Creative Commons license, and indicate if changes were made. The Creative Commons Public Domain Dedication waiver (
http://​creativecommons.​org/​publicdomain/​zero/​1.​0/​
) applies to the data made available in this article, unless otherwise stated.