01.12.2016 | Primary research | Ausgabe 1/2016 Open Access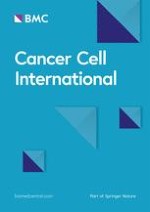 Oridonin inhibits pancreatic cancer cell migration and epithelial-mesenchymal transition by suppressing Wnt/β-catenin signaling pathway
Zeitschrift:
Autoren:

Qian-Qian Liu, Ke Chen, Qiao Ye, Xiao-Hua Jiang, Yun-Wei Sun
Abstract
Background
Oridonin (ORI) can inhibit proliferation and migration in various types of cancer cell lines. However, the exact mechanism remains unclear. We investigated the migration inhibitory effect of ORI on human pancreatic cancer SW1990 cells and dissected the possible molecular mechanism(s).
Methods
CCK-8 assay was used to observe the cell viability. Wound healing assay, transwell assay and spontaneous metastasis model were used to observe the migration activities. Real-time PCR, immunofluorescence, western blot analysis and immunohistochemistry methods were used to observe the expression of genes or proteins.
Results
ORI inhibited the migration of SW1990 cells. Real-time PCR and immuno-fluorescence analyses of epithelial-to-mesenchymal transition (EMT) markers were compared between control group and ORI group. The expression of mesenchymal molecular markers, such as vimentin, snail and slug decreased. The expression of epithelial-related marker E-cadherin increased. Wnt/β-catenin signalling was inhibited by ORI using luciferase reporter assay. ORI can decrease the β-catenin protein level not only in the nucleus, but also in the cytoplasm and the whole cell after the treatment with ORI and glycogen synthase kinase 3β (GSK3β) was increased in the ORI-treated group. CHIR could attenuate the effects of ORI in SW1990 cells. We established a mice model by injecting 1 × 106 SW1990 cells into nude mice intraperitoneally to test whether ORI affects tumour metastasis. Metastatic formation was inhibited by ORI (5 and 10 mg/kg) compared with the control group. Tumour sections stained with anti-E-cadherin, anti-vimentin and anti-β-catenin antibodies revealed that ORI inhibited EMT, as well as the Wnt/β-catenin pathway in vivo.
Conclusions
ORI can inhibit pancreatic cancer cell SW1990 migration and EMT by down-regulating Wnt/β-catenin signal transduction in vitro and in vivo. Therefore, it can be potentially and effectively used in the clinical management of pancreatic cancer.