01.12.2015 | Research article | Ausgabe 1/2015 Open Access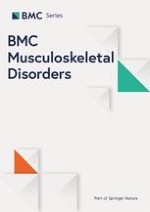 Osteoarthritis and frailty in elderly individuals across six European countries: results from the European Project on OSteoArthritis (EPOSA)
Zeitschrift:
Autoren:

Maria Victoria Castell, Suzan van der Pas, Angel Otero, Paola Siviero, Elaine Dennison, Michael Denkinger, Nancy Pedersen, Mercedes Sanchez-Martinez, Rocio Queipo, Natasja van Schoor, Sabina Zambon, Mark Edwards, Richard Peter, Laura Schaap, Dorly Deeg
Wichtige Hinweise
Competing interests
The authors declare that they have no competing interests. The funder had no role in the design, execution, analysis or interpretation of the data, or writing of the study.
Authors' contributions
MVC, AO, SVdP, MD, ED, ME, NP, SZ and D were involved in the coordination and design of the study. MVC, AO, MSM, RQ, SVdP, LS,NvS, NS, MD, ED, NP PS, SZ and DD were involved in carrying out the data collection and training and control of interviewers in each country. AO, RQ, SVdP and MVC carried out the statistical analyses. MVC, AO, MSM, MD, ED, and DD, made an initial interpretation of the results and drafted the manuscript. All authors were involved in revising and approving the final manuscript and accept responsibility for the data presented.
Abstract
Background
Osteoarthritis (OA) is the most common cause of disability in the elderly. Clinical frailty is associated with high mortality, but few studies have explored the relationship between OA and frailty.
The objective of this study was to consider the association between OA and frailty/pre-frailty in an elderly population comprised of six European cohorts participating in the EPOSA project.
Methods
Longitudinal study using baseline data and first follow-up waves, from EPOSA; 2,455 individuals aged 65-85 years were recruited from pre-existing population-based cohorts in Germany, Italy, the Netherlands, Spain, Sweden and the United Kingdom. Data were collected on clinical OA at any site (hand, knee or hip), based on the clinical classification criteria developed by the American College of Rheumatology (ACR). Frailty was defined according to Fried's criteria. The covariates considered were age, gender, educational level, obesity and country. We used multinomial logistic regression to analyse the associations between OA, frailty/pre-frailty and other covariates.
Results
The overall prevalence of clinical OA at any site was 30.4 % (95 % CI:28.6-32.2); frailty was present in 10.2 % (95 % CI:9.0-11.4) and pre-frailty in 51.0 % (95 % CI:49.0-53.0). The odds of frailty was 2.96 (95 % CI:2.11-4.16) and pre-frailty 1.54 (95 % CI:1.24-1.91) as high among OA individuals than those without OA. The association remained when Knee OA, hip OA or hand OA were considered separately, and was stronger in those with increasing number of joints.
Conclusions
Clinical OA is associated with frailty and pre-frailty in older adults in European countries. This association might be considered when designing appropriate intervention strategies for OA management.