13.02.2019 | Ausgabe 3/2019 Open Access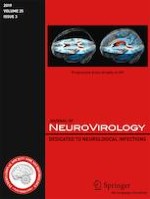 Osteopontin counters human immunodeficiency virus type 1–induced impairment of neurite growth through mammalian target of rapamycin and beta-integrin signaling pathways
Zeitschrift:
Autoren:

Mathilde Calvez, George Hseeh, Simon Benzer, Amanda M. Brown
Wichtige Hinweise
Publisher's note
Springer Nature remains neutral with regard to jurisdictional claims in published maps and institutional affiliations.
Abstract
Despite the fact that human immunodeficiency virus type 1 (HIV-1) does not enter or replicate in neurons, its infection of a subset of resident brain glia cells (microglia and astrocytes) induces via disparate mechanisms, dysregulation of glutamate metabolism, neurotoxicity, and inflammation. Antiretroviral therapies suppress viral load, but cellular activation and release of proinflammatory factors, some of which is likely related to viral reservoirs, continue to promote a microenvironment that is injurious to neurons. However, the molecular mechanisms remain to be identified. Osteopontin (OPN) is a proinflammatory cytokine-like, extracellular matrix protein that is elevated within the brain and CSF in several neurodegenerative disorders, including HIV-associated cognitive disorder. However, the impact of elevated OPN on neuronal integrity and function in HIV-infected individuals who exhibit cognitive dysfunction remains unknown. In this study, using a neuronal cell line and primary cultures of cortical rat neurons, we identify the mammalian target of rapamycin pathway involvement in a signaling interaction between OPN-β1-integrins and the HIV-1 envelope glycoprotein, which stimulates neurite growth. These findings link for the first time HIV X4-envelope receptor engagement and osteopontin-mediated signaling through β1-integrin receptors to the mTOR pathway and alterations in the cytoskeleton of cortical neurons.