01.12.2016 | Original research | Ausgabe 1/2016 Open Access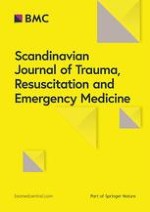 Out-of-hospital cardiac arrest patients treated with cardiopulmonary resuscitation using extracorporeal membrane oxygenation: focus on survival rate and neurologic outcome
Autoren:

Jae Jun Lee, Sang Jin Han, Hyoung Soo Kim, Kyung Soon Hong, Hyun Hee Choi, Kyu Tae Park, Jeong Yeol Seo, Tae Hun Lee, Heung Cheol Kim, Seonju Kim, Sun Hee Lee, Sung Mi Hwang, Sang Ook Ha
Wichtige Hinweise
Competing interests
The authors declare that they have no competing interests.
Authors' contributions
Study conception: HSK, Design: JJL, KSH. Acquisition of data: HSK, THL, SHL, JSJ, KTP. Analysis and interpretation of data: HCK, HHC. Drafting of the manuscript: JJL, SJH. Critical revision of the manuscript for important intellectual content: SOH, SJK, HSK, JYS, SMH. All the authors read and approved the final manuscript. None of the authors has any conflict of interest, financial or otherwise.
Abstract
Background
Extracorporeal membrane oxygenation (ECMO) is a useful treatment for refractory out-of-hospital cardiac arrest (OHCA). However, little is known about the predictors of survival and neurologic outcome after ECMO. We analyzed our institution's experience with ECMO for refractory OHCA and evaluated the predictors of survival and neurologic outcome after ECMO.
Methods
This was a retrospective review of the medical records of 23 patients who were treated with ECMO due to OHCA that was unresponsive to conventional cardiopulmonary resuscitation, between January 2009 and January 2014.
Results
Our ECMO team was activated within 10 min for refractory OHCA, and the 30-day survival rate was 43.5 %. In a multivariate analysis that evaluated independent factors contributing to mortality, urine output  ≤ 0.5 mL · kg
−1
 · h
−1
(defined as oliguria) during the 24 h after ECMO was statistically significant (OR, 32.271; 95 % CI, 1.379–755.282;
p
 = 0.031). Just after ECMO implantation, 6 of the 9 patients (66.7 %) who had normal findings on brain computed tomography (CT) survived with a cerebral performance category (CPC) of grade 1. However, only 3 of the 11 patients (27 %) who had evidence of hypoxic brain damage on initial brain CT survived (their CPC grade was 4).
Conclusions
Based on our findings, the survival rate can be improved by rapid implantation of ECMO, and oliguria seen during the first 24 h after ECMO may be an independent predictor of mortality. Furthermore, findings on brain CT just after ECMO and subsequent images may represent an important predictor for neurologic outcome after ECMO.