01.12.2017 | Study protocol | Ausgabe 1/2017 Open Access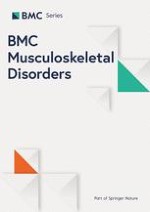 Outcome of patients after lower limb fracture with partial weight bearing postoperatively treated with or without anti-gravity treadmill (alter G®) during six weeks of rehabilitation – a protocol of a prospective randomized trial
Zeitschrift:
Autoren:

Ralf Henkelmann, Sebastian Schneider, Daniel Müller, Ralf Gahr, Christoph Josten, Jörg Böhme
Abstract
Background
Partial or complete immobilization leads to different adjustment processes like higher risk of muscle atrophy or a decrease of general performance. The present study is designed to prove efficacy of the anti-gravity treadmill (alter G®) compared to a standard rehabilitation protocol in patients with tibial plateau (group 1)or ankle fractures (group 2) with six weeks of partial weight bearing of 20 kg.
Methods and Design
This prospective randomized study will include a total of 60 patients for each group according to predefined inclusion and exclusion criteria. 1:1 randomization will be performed centrally via fax supported by the Clinical Trial Centre Leipzig (ZKS Leipzig). Patients in the treatment arm will be treated with an anti-gravity treadmill (alter G®) instead of physiotherapy. The protocol is designed parallel to standard physiotherapy with a frequency of two to three times of training with the treadmill per week with duration of 20 min for six weeks.
Discussion
Up to date no published randomized controlled trial with an anti-gravity treadmill is available. The findings of this study can help to modify rehabilitation of patients with partial weight bearing due to their injury or postoperative protocol. It will deliver interesting results if an anti-gravity treadmill is useful in rehabilitation in those patients. Further ongoing studies will identify different indications for an anti-gravity treadmill. Thus, in connection with those studies, a more valid statement regarding safety and efficacy is possible.