01.12.2015 | Research article | Ausgabe 1/2015 Open Access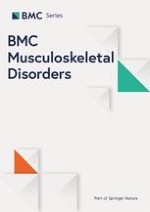 Outcomes and second-look arthroscopic evaluation after combined arthroscopic treatment of tibial plateau and tibial eminence avulsion fractures: a 5-year minimal follow-up
Zeitschrift:
Autoren:

Tsan-Wen Huang, Chien-Ying Lee, Szu-Yuan Chen, Shih-Jie Lin, Kuo-Yao Hsu, Robert Wen-Wei Hsu, Yi-Sheng Chan, Mel S. Lee
Wichtige Hinweise
Competing interests
The authors declare that they have no competing interests.
Authors' contributions
Y-SC and MSL conceived the study. Y-SC did the surgery. T-WH participated in the design of the study, analyzed the radiographic and functional measurements, and drafted the manuscript. C-YL and S-JL participated in the design of the study, and reviewed and measured the radiographs. S-YC drew the figures 5, 6 and 7. K-YH participated in the design of the study. RW-WH participated in the design of the study and coordinated the research groups. All authors read and approved the final manuscript.
Abstract
Background
Tibial eminence avulsion fracture often co-occurs with tibial plateau fracture, which leads to difficult concomitant management. The value of simultaneous arthroscopy-assisted treatment continues to be debated despite its theoretical advantages. We describe a simple arthroscopic suture fixation technique and hypothesize that simultaneous treatment is beneficial.
Methods
Patients with a tibial eminence avulsion fracture and a concurrent tibial plateau fracture who underwent simultaneous arthroscopically assisted treatment between 2005 and 2008 were enrolled in this retrospective study. Second-look arthroscopic evaluation and Rasmussen scores of clinical and radiographic parameters were used to assess simultaneous treatment.
Results
Forty-one patients (41 knees) met the inclusion criteria. All 41 fractures were successfully united. All patients had side-to-side differences of less than 3 mm and negative findings in Lachman and pivot-shift tests at their final follow-up. The mean postoperative Rasmussen clinical score was 27.3 (range: 19–30), and the mean radiologic score was 16.5 (range: 12–18). Clinical and radiographic outcomes in 98 % of the patients were good or excellent. There were no complications directly associated with arthroscopy in any patient.
Conclusions
Simultaneous arthroscopic suture fixation of associated tibial eminence avulsion fracture did not interfere with the plates and screws used to stabilize the tibial plateau fracture. It gave the knee joint adequate stability, minimal surgical morbidity, and satisfactory radiographic and clinical outcomes in a minimum follow-up of 5 years and in the arthroscopic second-look assessments.