23.11.2016 | Original Article | Ausgabe 4/2017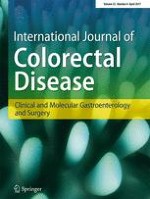 Outcomes of laparoscopic surgery in pathologic T4 colon cancers compared to those of open surgery
Zeitschrift:
Autoren:

Jeonghyun Kang, Seung Hyuk Baik, Kang Young Lee, Seung-Kook Sohn
Abstract
Introduction
Despite the oncologic safety of laparoscopic surgery in colon cancer management, laparoscopy is not regarded as a standard treatment for T4 colon cancer. The aim of this study was to investigate the short-term and long-term oncologic outcomes of laparoscopic surgery in patients with locally advanced colon cancer.
Material and method
From March 2003 to June 2013, a total of 109 consecutive patients with proven pathologic T4 colon cancer were enrolled. These patients were divided into the laparoscopy group (LG,
n
= 52) and the open group (OG,
n
= 57). Perioperative and long-term oncologic outcomes were compared between the two groups.
Results
In the LG, open conversion occurred in four patients (7.6%). Combined resection was less commonly performed in the LG (13.5%) than in the OG (36.8%,
P
= 0.005). Operation time was similar between the two groups. In the LG, blood loss (129 mL vs. 437 mL,
P
< 0.001) and overall complication rate (13.5 vs. 36.8%,
P
= 0.005) were lower and length of hospital stay was shorter (median 7 vs. 17 days,
P
< 0.001) than in the OG. The 5-year overall survival rate was 60.7% for the LG and 61.9% for the OG (
P
= 0.817). Local recurrence-free survival did not differ between the groups (88.9% in LG vs. 88.1% in OG,
P
= 0.725).
Conclusion
Considering the benefits of early recovery and similar oncologic outcomes, laparoscopic surgery in T4 colon cancer could be a viable option in selected patients.