12.05.2017 | Original Article | Ausgabe 11/2017 Open Access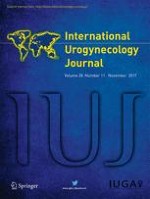 Outpatient mid-urethral tissue fixation system sling for urodynamic stress urinary incontinence: 3-year surgical and quality of life results
Zeitschrift:
Autoren:

Ryoko Nakamura, Masahiro Yao, Yoshiko Maeda, Akiko Fujisaki, Yuki Sekiguchi
Wichtige Hinweise
This work was presented at the 2016 International Society for Pelviperineology (ISPP) conference in Tel-Aviv (Israel) on 21 September 2016
Abstract
Introduction
To evaluate the clinical effectiveness and quality of life (QOL) of outpatient mid-urethral tissue fixation system sling (TFS) procedures for urodynamic stress urinary incontinence (SUI) at 3-year follow-up.
Methods
We analyzed 50 mid-urethral TFS sling operations between 2007 and 2012 at Yokohama Motomachi Women's Clinic LUNA. The primary outcome was success defined as a negative 24-h pad test, negative cough and Valsalva stress test, and no re-treatment for SUI. Secondary outcome was improvement in quality of life, which was assessed using the Incontinence Questionnaire-Short Form (ICIQ-SF) and the Incontinence Impact Questionnaire Short Form (IIQ-7). The 3-year postoperative scores were compared with baseline scores using the Wilcoxon signed rank test. A 5% two-sided significance level was used for all statistical testing.
Results
All operations were carried out on an outpatient basis with no intraoperative complications. The primary cure rate result at 3-year follow-up was 90%. Median total ICIQ-SF score changed from 12 (6–20) to 0 (0–14) and median total IIQ-7 score changed from 156 (0–300) to 0 (0.00–16.7) at 3-year follow-up.
Conclusions
Results show that the TFS mid-urethral sling operation is a simple, safe, effective procedure that may be done without difficulty at a freestanding clinic on an outpatient basis and favorably improves subjective QOL of the patient.