17.02.2018 | Original Article | Ausgabe 4/2018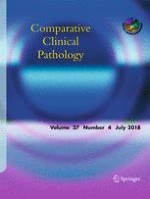 Ovarian morphology and development of 3 to 8 months old African catfish,
Clarias gariepinus
Zeitschrift:
Autoren:

Chidozie Nwabuisi Okoye, Anietie Francis Udoumoh, Udensi Maduabuchi Igwebuike, Chinadindu Tochukwu Okereke
Abstract
Thirty female African catfish of 3, 4, 5, 6, 7, and 8 months (
n
 = 5 per age) cultured in south-east Nigeria were used to investigate ovarian morphology and development using gross anatomical and histological techniques. The results illustrated that the gonadosomatic indices of the African catfish peaked at 7 months of age (20.05 ± 1.45). Histologically, the ovaries of 3-month-old fish exhibited only pre-vitellogenic oocytes, while 4- to 8-month-old fish showed all stages of oocyte development, with predominance of pre-vitellogenic at 4 and 5 months old, and mature oocytes at 6 to 8 months old. The African catfish demonstrated an asynchronous mode of ovarian development. Oocytes representing the primary, secondary, and maturation growth phases were observed. Based on the gonadosomatic index and the histological evaluation of these ovaries, it was suggested that the African catfish mature for spawning at 7 months of age; moreover, its asynchronous mode of ovarian development may indicate that oocyte development and onset of sexual maturity of the catfish may be influenced by the amount and quality of food available in the culture environment. The study has provided essential information on the oogenesis and ovarian development of
C. gariepinus
, which may be useful for effective production and management of the fish in captivity.