01.11.2018 | Original Paper | Ausgabe 11/2018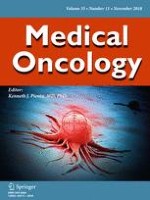 Overall survival of Brazilian acute myeloid leukemia patients according to the European LeukemiaNet prognostic scoring system: a cross-sectional study
Zeitschrift:
Autoren:

Tarcila Santos Datoguia, Elvira Deolinda Rodrigues Pereira Velloso, Ricardo Helman, Juliane Garcez Musacchio, Marco Aurélio Salvino, Rodolfo Almeida Soares, Marcia Higashi, Adriana Valente Fadel, Rodrigo Santucci Alves e Silva, Nelson Hamerschlak, Fabio Pires de Souza Santos, Paulo Vidal Campregher
Abstract
Prognostic stratification in acute myeloid leukemia (AML) relies, mostly, on cytogenetics and molecular features of leukemic blasts. The LeukemiaNet prognostic scoring system has been proposed as a standardized way of evaluating prognosis in AML. We have analysed outcomes in 65 AML cases (median age of 54 years, range 18–82) treated at five hematology centers in Brazil stritified according to the European Leukemia Net (ELN) recommendations for cytogenetic and molecular analysis. We classified patients as favorable (
N
 = 13), intermediate-1 (
N
 = 25), intermediate-2 (
N
 = 15), or adverse risk (
N
 = 9). Bone marrow transplantation (BMT) was performed in 13 patients (21%). Median follow-up was 12 months. The median overall survival (OS) for all patients was 12.4 months. Median OS was 19.8, 12.4, 10.1, and 10.4 months (
p
 = 0.24) for patients in the favorable, intermediate-1, intermediate-2, and adverse groups, respectively. Among patients receiving BMT, median OS was 26.8 months. The ELN is a valuable tool for prognostic stratification of AML patients treated in Brazil. Nevertheless, its usefulness is limited when compared to data from developed countries.