01.12.2015 | Research article | Ausgabe 1/2015 Open Access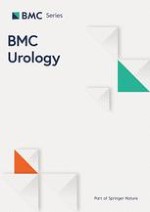 Overexpression of NIMA-related kinase 2 is associated with progression and poor prognosis of prostate cancer
Zeitschrift:
Autoren:

Yan-Ru Zeng, Zhao-Dong Han, Cong Wang, Chao Cai, Ya-Qiang Huang, Hong-Wei Luo, Ze-Zhen Liu, Yang-Jia Zhuo, Qi-Shan Dai, Hai-Bo Zhao, Yu-Xiang Liang, Wei-De Zhong
Wichtige Hinweise
Yan-Ru Zeng Zhao-Dong Han and Cong Wang contributed equally to this work.
Competing interests
The authors declare that they have no competing interests.
Authors' contributions
CW, ZDH, YXL and WDZ participated in study design and coordination, analysis and interpretation of data, material support for obtained funding, and supervised study. YRZ, YQH and ZZL: performed most of the experiments and statistical analysis and drafted the manuscript. Other authors: carried out the experiment and sample collection. All authors read and approved the final manuscript.
Abstract
Background
The NIMA-related kinase 2 (NEK2) is a serine/threonine kinase that is involved in regulation of centrosome duplication and spindle assembly during mitosis. Dysregulation of these processes causes chromosome instability and aneuploidy, which are hallmark changes of many solid tumors. However, whether aberrant expression of NEK2 is associated with outcome of prostate cancer (PCa) patients remains to be determined.
Methods
Expression of NEK2 in human PCa cells and primary PCa tissues was assessed by quantitative RT-PCR. Expression of NEK2 in human PCa cells was depleted with siRNA. Effects of the depletion on cell proliferation, survival, and tumorigenicity were assessed both
in vitro
with cell cultures and
in vivo
with subcutaneous implantation of xenografts.
In silico
analyses of the online Taylor dataset were carried out to determine whether the expression level of NEK2 correlated with the clinicopathological characteristics of prostate cancer.
Results
Compared with benign human prostatic epithelial cells and tissues, the expression of NEK2 was elevated in human PCa cells and primary PCa tissues. Depleting NEK2 expression inhibited human PCa cell proliferation
in vitro
and xenograft growth
in vivo
. Expression level of NEK2 in PCa positively correlated with the Gleason score and pathologic stage of the patient.
Conclusion
The results suggest that overexpression of NEK2 has the potential to serve as a biomarker for PCa prognosis. Further validation with large sample pool is warrant.