01.12.2014 | Research article | Ausgabe 1/2014 Open Access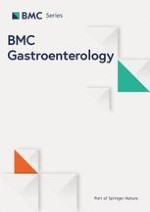 Overexpression of SLC38A1 is associated with poorer prognosis in Chinese patients with gastric cancer
Zeitschrift:
Autoren:

Jing Xie, Ping Li, Hui-feng Gao, Jian-xin Qian, Ling-Yan Yuan, Jie-jun Wang
Wichtige Hinweise
Electronic supplementary material
The online version of this article (doi:
10.​1186/​1471-230X-14-70
) contains supplementary material, which is available to authorized users.
Jing Xie, Ping Li contributed equally to this work.
Competing interests
The authors declared that they have no competing interests.
Authors' contributions
JX participated in the study design, collected patient material and drafted the manuscript. PL collected patient material, performed statistical analyses and revised the manuscript for important intellectual content. HFG participated in the study design and revised the manuscript for important intellectual content. JXQ collected patient material. LYY collected patient material. JJW conceived of the study, and participated in its design and coordination and revised the manuscript for important intellectual content. All authors read and approved the final manuscript.
Abstract
Background
Current literature has demonstrated that host glutamine depletion facilitates tumorigenesis. Likewise, the glutamine transporter SLC38A1 is putatively associated with malignant transformation and tumor progression. Taken together, this forms the premise for undertaking the current study. The twofold aim of this study was to provide insight into whether or not a variance in the expression of SLC38A1 exists between human gastric cancer and healthy human tissues, and to determine how silencing the SLC38A1 gene could affect the proliferation, viability, migration, and invasion of gastric cancer cells.
Methods
Immunohistochemical staining was used to analyze the expression of SLC38A1 in gastric cancer tissues and adjacent healthy mucosa in 896 patients with pathologically confirmed gastric cancer who had underwent R0 resection. SH-10-TC cells (a gastric cancer cell line) were used to examine whether silencing SLC38A1 with siRNA could affect cell viability, migration and invasion.
Results
The SLC38A1 protein was very low or undetectable in healthy gastric mucosa. In contrast, strong staining of SLC38A1 protein was found in the cytoplasm in 495 out of the 896 gastric cancer samples. More pronounced SLC38A1 expression in gastric cancer tissues was significantly associated with age, differentiation status, lymph node metastasis, TNM stage and PCNA (proliferating cell nuclear antigen) expression. Upon univariate survival analysis, SLC38A1 expression was correlated with poor survival. Multivariate survival analysis revealed that SLC38A1 was an independent prognostic factor.
Conclusion
SLC38A1 is overexpressed in gastric cancer, which suggests that it is contributory to tumor progression. These results encourage the exploration of SLC38A1 as a target for intervention in gastric cancer.