01.12.2012 | Original investigation | Ausgabe 1/2012 Open Access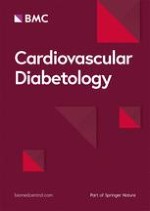 Overexpression of steroidogenic acute regulatory protein in rat aortic endothelial cells attenuates palmitic acid-induced inflammation and reduction in nitric oxide bioavailability
Zeitschrift:
Autoren:

Dai Tian, Yanyan Qiu, Yongkun Zhan, Xiaobo Li, Xiuling Zhi, Xinhong Wang, Lianhua Yin, Yanxia Ning
Wichtige Hinweise
Electronic supplementary material
The online version of this article (doi:
10.​1186/​1475-2840-11-144
) contains supplementary material, which is available to authorized users.
Competing interests
The authors declare that they have no competing interests.
Authors' contributions
DT initiated and performed the majority of the laboratory work, which was designed and supervised by YN; YQ, YZ, XL, XZ, and XW carried out additional experiments, including cell culture, transfection, and partial real-time quantitative PCR and Western blotting. LY and YN was critically involved in writing, revising, drafting the paper and has given final approval of the version of the paper to be published. All authors have read and approved the final manuscript.
Abstract
Background
Endothelial dysfunction is a well documented evidence for the onset of atherosclerosis and other cardiovascular diseases. Lipids disorder is among the main risk factors for endothelial dysfunction in these diseases. Steroidogenic acute regulatory protein (StAR), one of the cholesterol transporters, plays an important role in the maintenance of intracellular lipid homeostasis. However, the effect of StAR on endothelial dysfunction is not well understood. Palmitic acid (PA) has been shown to decrease eNOS activity and induce inflammation, both are the causes of endothelial dysfunction, in an endothelial cell culture model.
Methods
StAR gene was introduced into primary rat aortic endothelial cells by adenovirus infection. Real-time PCR and Western blotting were performed to determine the relative genes and proteins expression level to elucidate the underlying mechanism. The free fatty acid and cholesterol quantification kits were used to detect total cellular free fatty acid and cholesterol. The levels of inflammatory factors and nitric oxide were determined by ELISA and classic Griess reagent methods respectively.
Results
We successfully overexpressed StAR in primary rat aortic endothelial cells. Following StAR overexpression, mRNA levels of IL-1β, TNFα, IL6 and VCAM-1 and protein levels of IL-1β, , TNFα and IL-6 in culture supernatant were significantly decreased, which duing to blocke NFκB nuclear translocation and activation. Moreover, StAR overexpression attenuated the PA-induced reduction of nitric oxide bioavailability by protecting the bioactivity of pAkt/peNOS/NO pathway. Furthermore, the key genes involved in lipid metabolism were greatly reduced following StAR overexpression. In order to investigate the underlying mechanism, cerulenin and lovastatin, the inhibitor of fatty acid and cholesterol synthase, were added prior to PA treatment. The results showed that both cerulenin and lovastatin had a similar effect as StAR overexpression. On the other hand, the role of StAR was inhibited when siRNA was introduced to reduce StAR expression.
Conclusions
Our results showed that StAR attenuated lipid synthesis and uptake as well as PA-induced inflammation and reduction in NO bioavailability in aortic endothelial cells. StAR can ameliorate endothelial dysfunction induced by PA via reducing the intracellular lipid levels.