01.12.2017 | Primary research | Ausgabe 1/2017 Open Access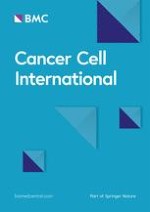 Overexpression of suppressor of zest 12 is associated with cervical node metastasis and unfavorable prognosis in tongue squamous cell carcinoma
Zeitschrift:
Autoren:

Huijun Hu, Yi Wang, Zhongwu Li, Yumin Zhu, Wei Zhang, Dongmiao Wang, Tangyi Lin, Jianrong Yang, Yanling Wang, Jie Cheng
Wichtige Hinweise
Huijun Hu and Yi Wang contributed equally to this work
Abstract
Objective
Increased expression of suppressor of zest 12 (SUZ12), a core component of the polycomb repressive complex 2, contributes to human tumorigenesis and associates with patient prognosis. In the present study, we sought to investigate the expression of SUZ12 and its clinicopathological significance in primary tongue squamous cell carcinoma (TSCC).
Methods
The expression of SUZ12 protein was determined by immunohistochemistry in clinical samples from a retrospective cohort of 72 patients with primary TSCC who were treated at our institution from Jan. 2007 to Dec. 2013. The potential associations between SUZ12 abundance and multiple clinicopathological parameters were assessed by Chi square test. Moreover, the effect of SUZ12 expression on patients' survival was further estimated by Kaplan–Meier and Cox regression analyses.
Results
Our immunohistochemical staining data revealed aberrant overexpression of SUZ12 in a large subset of TSCC as compared to normal tongue mucosa. Elevated SUZ12 was found to be significantly associated with cervical nodes metastasis (
P
= 0.0325) and reduced overall as well as disease-free survival (Log-rank test,
P
= 0.0225, 0.0179, respectively). Both univariate and multivariate Cox regression analysis identified the expression status of SUZ12 (low/high) as an important independent prognostic factor for patients' survival.
Conclusions
Our data reveal that aberrant SUZ12 overexpression is associated with cervical nodes metastasis and reduced survival in TSCC. These findings suggest that SUZ12 might play critical roles during tongue tumorigenesis and serve as a novel biomarker with diagnostic and prognostic significance.