01.12.2017 | Research article | Ausgabe 1/2017 Open Access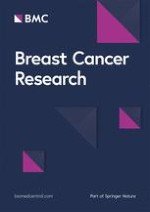 Overexpression of syndecan-1, MUC-1, and putative stem cell markers in breast cancer leptomeningeal metastasis: a cerebrospinal fluid flow cytometry study
Zeitschrift:
Autoren:

Iole Cordone, Serena Masi, Valentina Summa, Mariantonia Carosi, Antonello Vidiri, Alessandra Fabi, Alessia Pasquale, Laura Conti, Immacolata Rosito, Carmine Maria Carapella, Veronica Villani, Andrea Pace
Wichtige Hinweise
Electronic supplementary material
The online version of this article (doi:
10.​1186/​s13058-017-0827-4
) contains supplementary material, which is available to authorized users.
Abstract
Background
Cancer is a mosaic of tumor cell subpopulations, where only a minority is responsible for disease recurrence and cancer invasiveness. We focused on one of the most aggressive circulating tumor cells (CTCs) which, from the primitive tumor, spreads to the central nervous system (CNS), evaluating the expression of prognostic and putative cancer stem cell markers in breast cancer (BC) leptomeningeal metastasis (LM).
Methods
Flow cytometry immunophenotypic analysis of cerebrospinal fluid (CSF) samples (4.5 ml) was performed in 13 consecutive cases of BCLM. Syndecan-1 (CD138), MUC-1 (CD227) CD45, CD34, and the putative cancer stem cell markers CD15, CD24, CD44, and CD133 surface expression were evaluated on CSF floating tumor cells. The tumor-associated leukocyte population was also characterized.
Results
Despite a low absolute cell number (8 cell/μl, range 1–86), the flow cytometry characterization was successfully conducted in all the samples. Syndecan-1 and MUC-1 overexpression was documented on BC cells in all the samples analyzed; CD44, CD24, CD15, and CD133 in 77%, 75%, 70%, and 45% of cases, respectively. A strong syndecan-1 and MUC-1 expression was also documented by immunohistochemistry on primary breast cancer tissues, performed in four patients. The CSF tumor population was flanked by T lymphocytes, with a different immunophenotype between the CSF and peripheral blood samples (
P
 ≤ 0.02).
Conclusions
Flow cytometry can be successfully employed for solid tumor LM characterization even in CSF samples with low cell count. This in vivo study documents that CSF floating BC cells overexpress prognostic and putative cancer stem cell biomarkers related to tumor invasiveness, potentially representing a molecular target for circulating tumor cell detection and LM treatment monitoring, as well as a primary target for innovative treatment strategies. The T lymphocyte infiltration, documented in all CSF samples, suggests a possible involvement of the CNS lymphatic system in both lymphoid and cancer cell migration into and out of the meninges, supporting the extension of a new form of cellular immunotherapy to LM. Due to the small number of cases, validation on large cohorts of patients are warranted to confirm these findings and to evaluate the impact and value of these results for diagnosis and management of LM.