30.06.2018 | Reproductive Physiology and Disease | Ausgabe 8/2018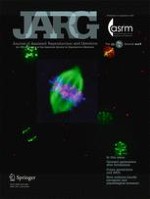 Oviductal glycoprotein 1 (OVGP1) is expressed by endometrial epithelium that regulates receptivity and trophoblast adhesion
Zeitschrift:
Autoren:

Saniya Laheri, Nancy Ashary, Purvi Bhatt, Deepak Modi
Wichtige Hinweise
Electronic supplementary material
Abstract
Purpose
To study the regulation and functions of oviductal glycoprotein 1 (
OVGP1
) in endometrial epithelial cells.
Methods
Expression of OVGP1 in mouse endometrium during pregnancy and in the endometrial epithelial cell line (Ishikawa) was studied by immunofluorescence, Western blotting, and RT-PCR. Regulation of
OVGP1
in response to ovarian steroids and human chorionic gonadotropin (hCG) was studied by real-time RT-PCR.
OVGP1
expression was knockdown in Ishikawa cells by shRNA, and expression of receptivity associated genes was studied by real-time RT-PCR. Adhesion of trophoblast cell line (JAr) was studied by
in vitro
adhesion assays.
Results
OVGP1 was localized exclusively in the luminal epithelial cells of mouse endometrium at the time of embryo implantation. Along with estrogen and progesterone, hCG induced the expression of
OVGP1
in Ishikawa cells. Knockdown of
OVGP1
in Ishikawa cells reduced mRNA expression of
ITGAV
,
ITGB3
,
ITGA5
,
HOXA10
,
LIF
, and
IL15
; it increased the expression of
HOXA11
,
MMP9
,
TIMP1
, and
TIMP3
. Supernatants derived from
OVGP1
knockdown Ishikawa cells reduced the adhesiveness of JAr cells in vitro. Expression of
OVGP1
mRNA was found to be significantly lowered in the endometrium of women with recurrent implantation failure.
Conclusion
OVGP1 is specifically induced in the luminal epithelium at the time of embryo implantation where it regulates receptivity-related genes and aids in trophoblast adhesion.