01.12.2015 | Research article | Ausgabe 1/2015 Open Access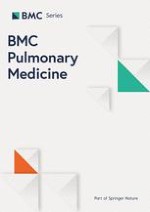 p-STAT6, PU.1, and NF-κB are involved in allergen-induced late-phase airway inflammation in asthma patients
Zeitschrift:
Autoren:

Deimante Hoppenot, Kestutis Malakauskas, Simona Lavinskiene, Raimundas Sakalauskas
Wichtige Hinweise
Electronic supplementary material
The online version of this article (doi:
10.​1186/​s12890-015-0119-7
) contains supplementary material, which is available to authorized users.
Competing interests
The authors declare that they do not have any competing interests.
Authors' contributions
All authors were involved in the design of the study, analysis, and interpretation of results. DH and SL carried out experiments in the laboratory. DH contributed to the recruitment and clinical characterization of patients. RS contributed to the design and coordination of the study. KM initiated the study and participated in its design and coordination as well as helped to draft the manuscript. All authors read and approved the final manuscript.
Abstract
Background
Previous
in vitro
and animal studies demonstrated that transcription factors p-STAT6 and PU.1 are required to induce interleukin (IL)-9 secretion by T helper (Th) 9 cells. It is believed that n factor-kappaB (NF-κB) plays a role in eosinophil survival. The importance of these transcription factors in the pathogenesis of allergic asthma (AA) in humans is poorly understood. We evaluated p-STAT6 and PU.1 expression in peripheral blood Th9 cells and NF-κB expression in eosinophils during late-phase airway inflammation in AA patients.
Methods
Nineteen adults with AA and 14 adult healthy individuals (HI) were examined. Peripheral blood collected 24 h before (baseline) and 24 h after bronchial allergen challenge. CD4+ cells and eosinophils were isolated by high-density gradient centrifugation and magnetic separation. The percentage of Th9 cells and apoptotic eosinophils was estimated by flow cytometry. p-STAT6 and PU.1 expression was expressed as mean fluorescence intensity (MFI) in Th9 cells. NF-κB levels were expressed as MFI in peripheral blood eosinophils. Serum IL-9 and IL-5 levels were determined by enzyme-linked immunosorbent assay.
Results
At baseline, MFI of p-STAT6 and PU.1 in peripheral blood Th9 cells and MFI of NF-κB in eosinophils and, serum IL-5 and IL-9 levels were greater in AA patients (
P
 < 0.05). Decreased eosinophil apoptosis was seen in the AA group compared with HI (
P
 < 0.05). MFI of p-STAT6, PU.1, and NF-κB and serum levels of IL-5 and IL-9 were increased in the AA group 24 h after challenge compared with baseline (
P
 < 0.05). In the AA group, a correlation between serum IL-9 and Th9 cells (
r
 = 0.7,
P
 = 0.001) and MFI of PU.1 (
r
 = 0.6,
P
 = 0.01) 24 h after bronchial allergen challenge was observed. A correlation between Th9 cells and MFI of p-STAT6 (
r
 = 0.45,
P
 = 0.03) as well as MFI of PU.1 (
r
 = 0.5,
P
 = 0.02) 24 h after challenge was only observed in AA patients. A correlation between the MFI of NF-κB and eosinophil apoptosis was observed in AA patients 24 h before (
r
 = −0.46,
P
 = 0.02) and after (
r
 = −0.5,
P
 = 0.02) challenge.
Discussions
p-STAT6 and PU.1 may be associated with Th9 cells and IL-9 production, whereas NF-κB and IL-5 may be associated with reduced eosinophil apoptosis in allergen-induced late-phase airway inflammation.