23.05.2016 | Pictorial Review | Ausgabe 4/2016 Open Access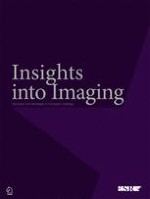 Paediatric brainstem: A comprehensive review of pathologies on MR imaging
Zeitschrift:
Autoren:

Chandan Kakkar, Shruti Kakkar, Kavita Saggar, Jatinder S. Goraya, Archana Ahluwalia, Ankur Arora
Wichtige Hinweise
Previously presented at RSNA 2014, Chicago, IL, as an Educational Exhibit.
Abstract
The brainstem is a midline structure formed by the midbrain, pons and medulla and is a home for various vital neurological centres of the human body. A diverse spectrum of disease entities can involve the brainstem, which includes infections, metabolic disorders, demyelination, vascular conditions, neurodegenerative disorders and tumours. Brainstem involvement can be primary or secondary, i.e., as part of systemic disorders. Due to the overlapping clinical presentation and symptomatology, imaging plays a decisive role in the detection, localisation and characterisation of brainstem pathologies. Magnetic resonance imaging (MRI) is the modality of choice and the use of advanced MR techniques such as diffusion-weighted imaging and spectroscopy can be especially helpful in providing a tenable diagnoses. This article is a compilation of the MR imaging manifestations of a spectrum of common and uncommon brainstem pathologies that can be encountered in the paediatric age group.
• The paediatric brainstem can be afflicted by many pathologies that may overlap clinico-radiologically.
• MRI is the best modality for the localisation and diagnosis of brainstem pathologies.
• Diffusion-weighted imaging is useful in the diagnosis of vascular and metabolic disorders.
• Occasionally, demyelination and neoplasms can be indistinguishable on imaging.