01.12.2017 | Research article | Ausgabe 1/2017 Open Access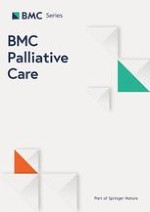 Palliative care in the neonatal unit: neonatal nursing staff perceptions of facilitators and barriers in a regional tertiary nursery
Zeitschrift:
Autoren:

Meegan Kilcullen, Susan Ireland
Abstract
Background
Neonatology has made significant advances in the last 30 years. Despite the advances in treatments, not all neonates survive and a palliative care model is required within the neonatal context. Previous research has focused on the barriers of palliative care provision. A holistic approach to enhancing palliative care provision should include identifying both facilitators and barriers. A strengths-based approach would allow barriers to be addressed while also enhancing facilitators. The current study qualitatively explored perceptions of neonatal nurses about facilitators and barriers to delivery of palliative care and also the impact of the regional location of the unit.
Methods
The study was conducted at the Townsville Hospital, which is the only regional tertiary neonatal unit in Australia. Semi-structured interviews were conducted with a purposive sample of eight neonatal nurses. Thematic analysis of the data was conducted within a phenomenological framework.
Results
Six themes emerged regarding family support and staff factors that were perceived to support the provision of palliative care of a high quality. Staff factors included
leadership, clinical knowledge, and morals, values, and beliefs
. Family support factors included
emotional support, communication,
and
practices
within the unit. Five themes emerged from the data that were perceived to be barriers to providing quality palliative care. Staff perceived
education, lack of privacy, isolation, staff characteristics
and
systemic (policy, and procedure)
factors to impact upon palliative care provision. The regional location of the unit also presented unique facilitators and barriers to care.
Conclusions
This study identified and explored facilitators and barriers in the delivery of quality palliative care for neonates in a regional tertiary setting. Themes identified suggested that a strengths-approach, which engages and amplifies facilitating factors while identified barriers are addressed or minimized, would be successful in supporting quality palliative care provision in the neonatal care setting. Study findings will be used to inform clinical education and practice.